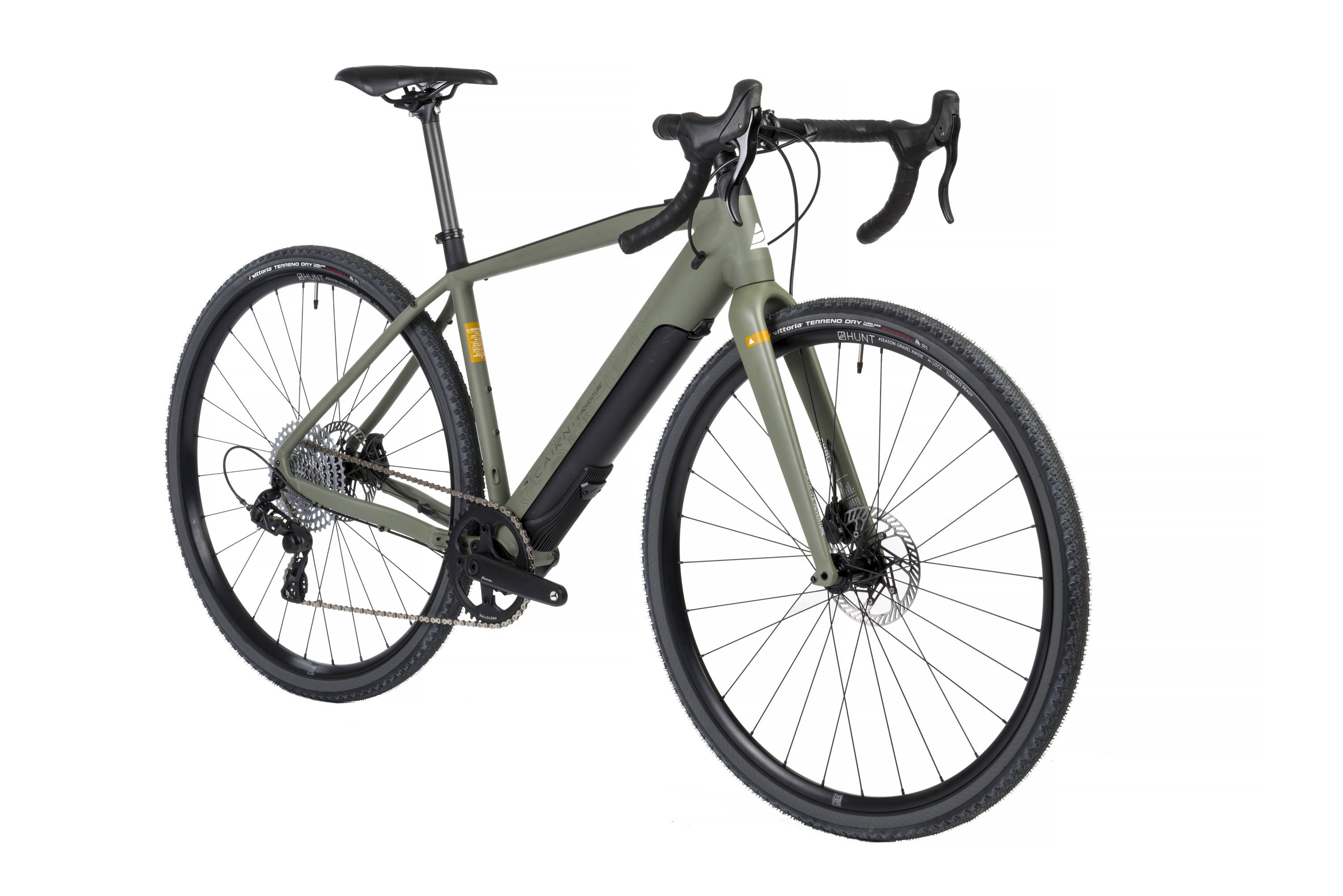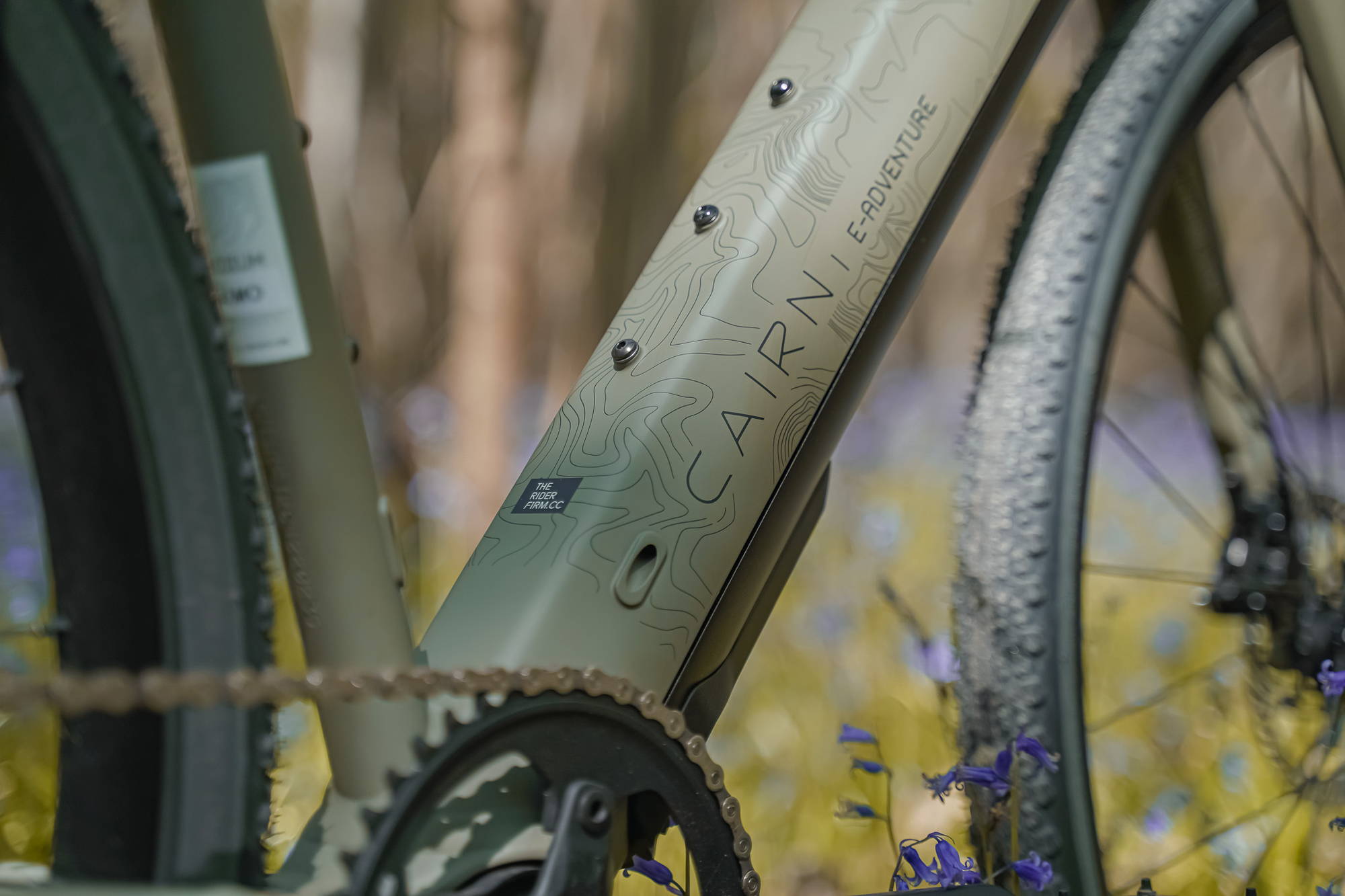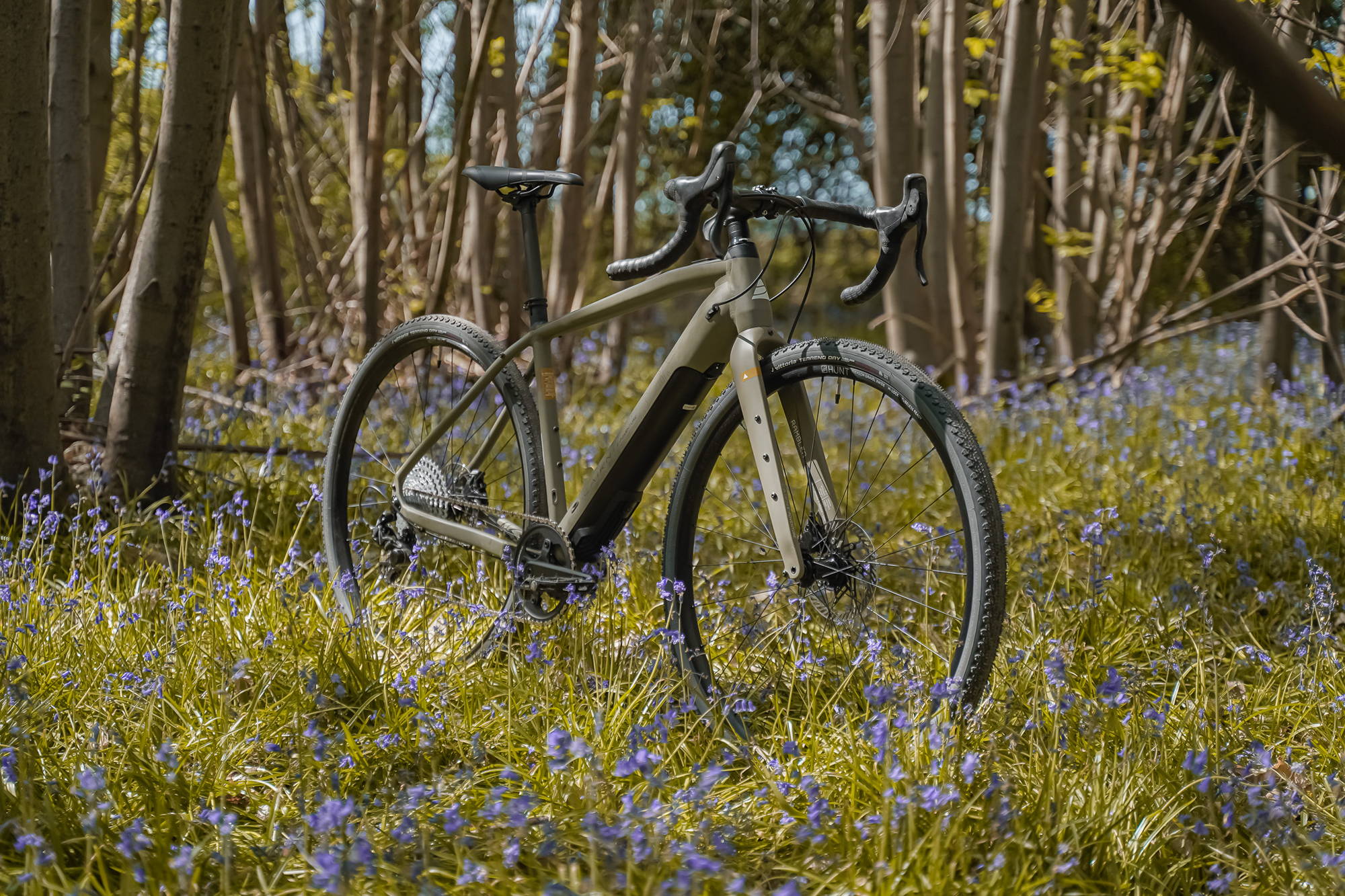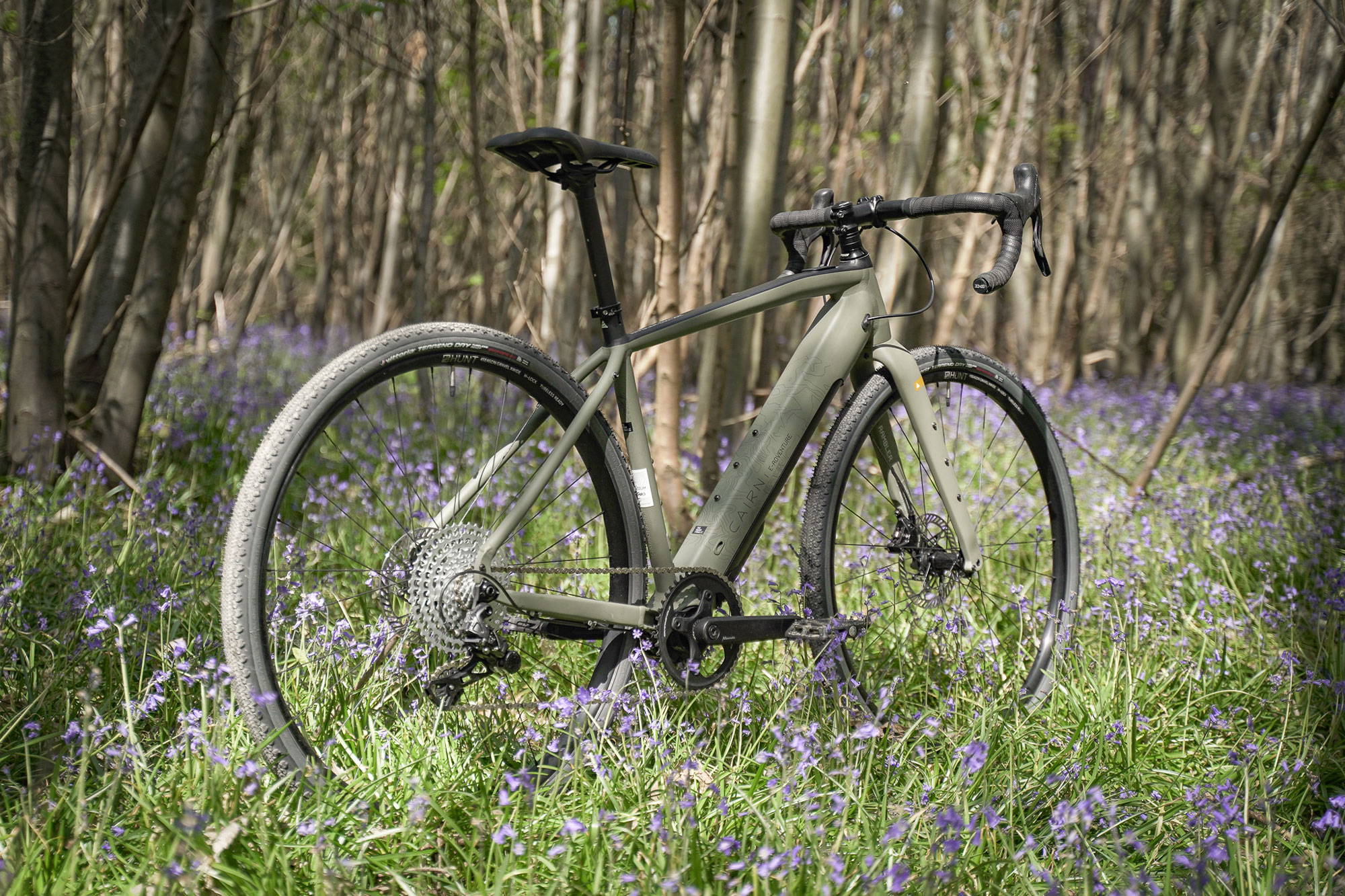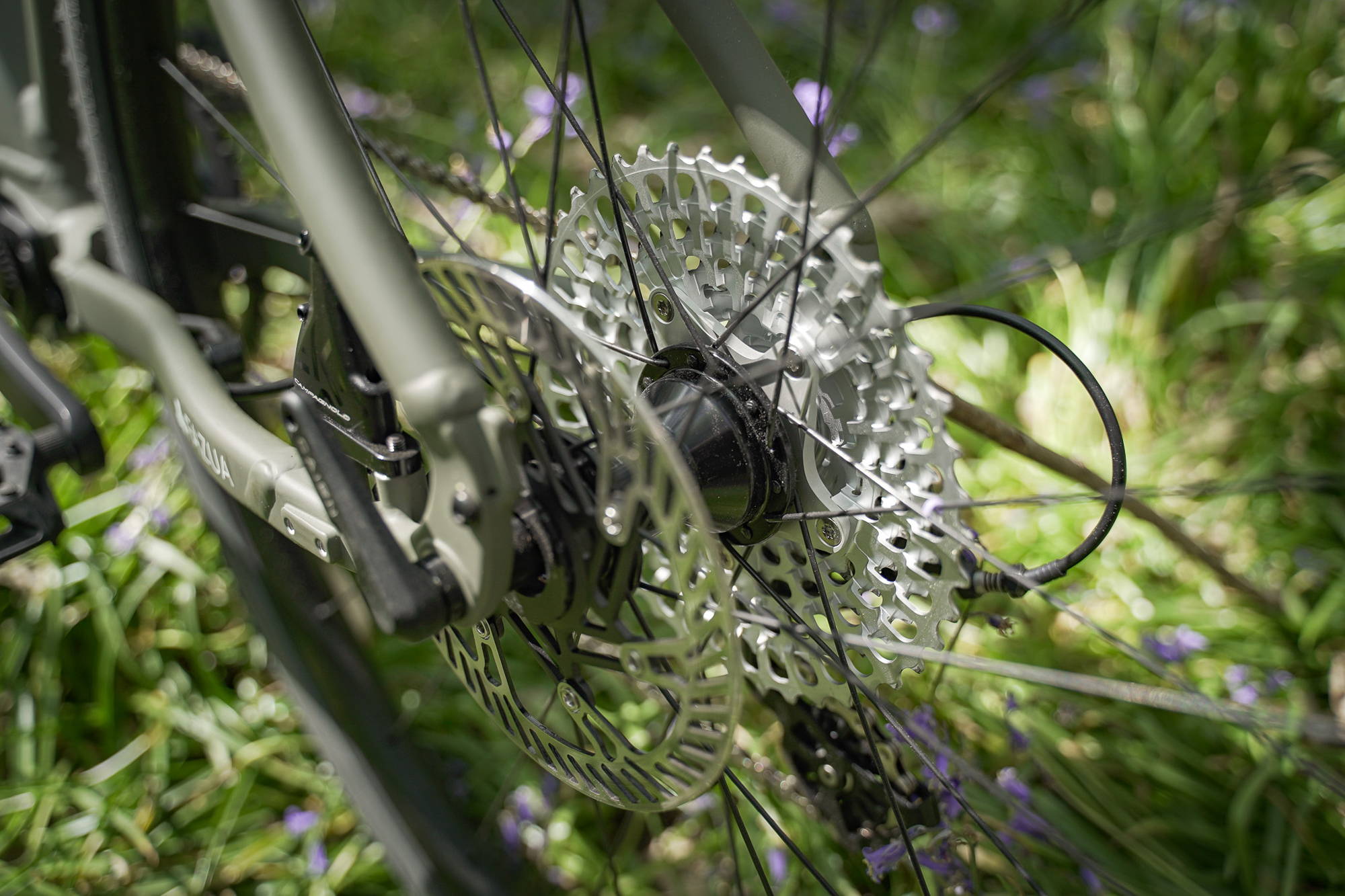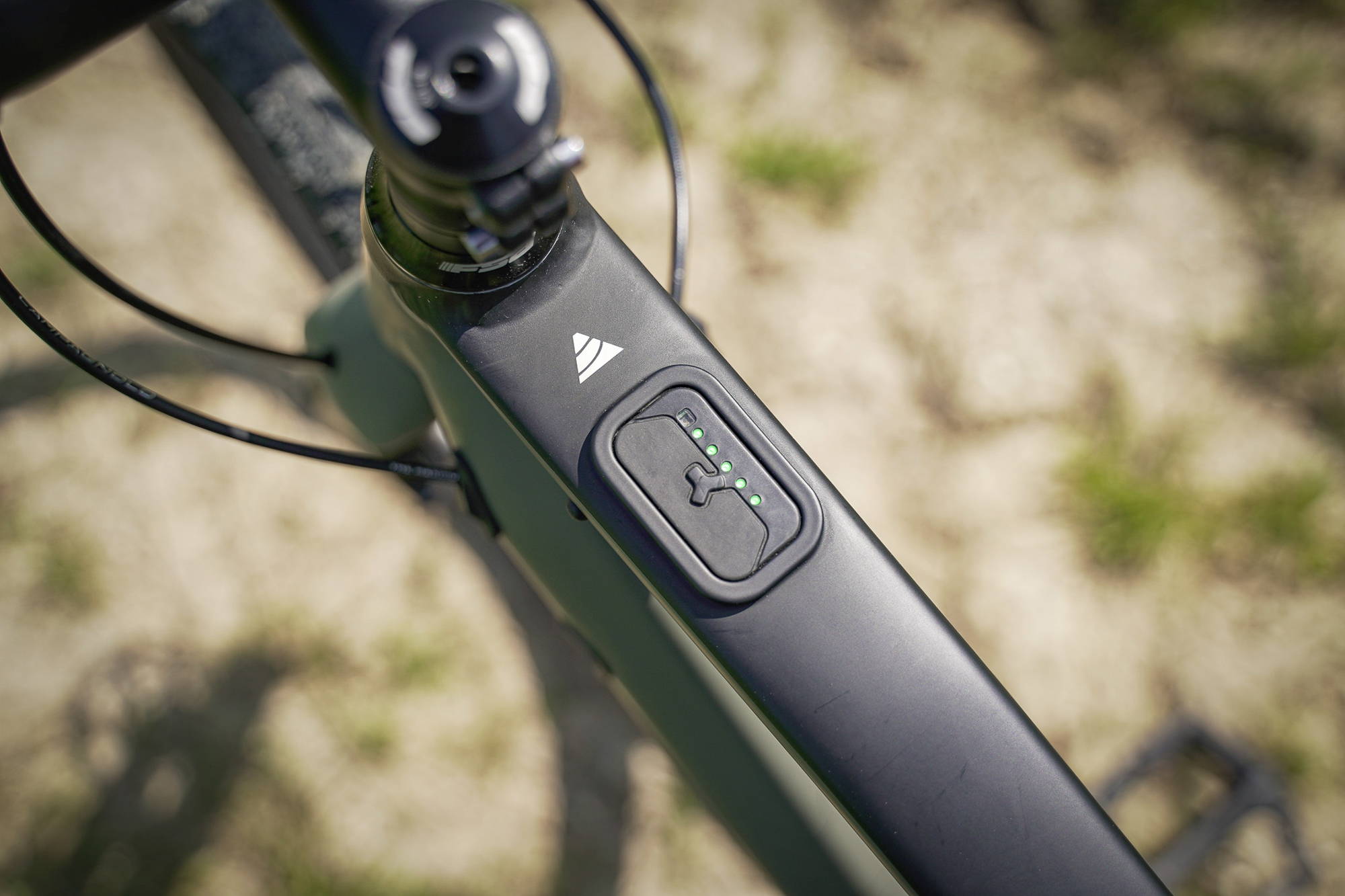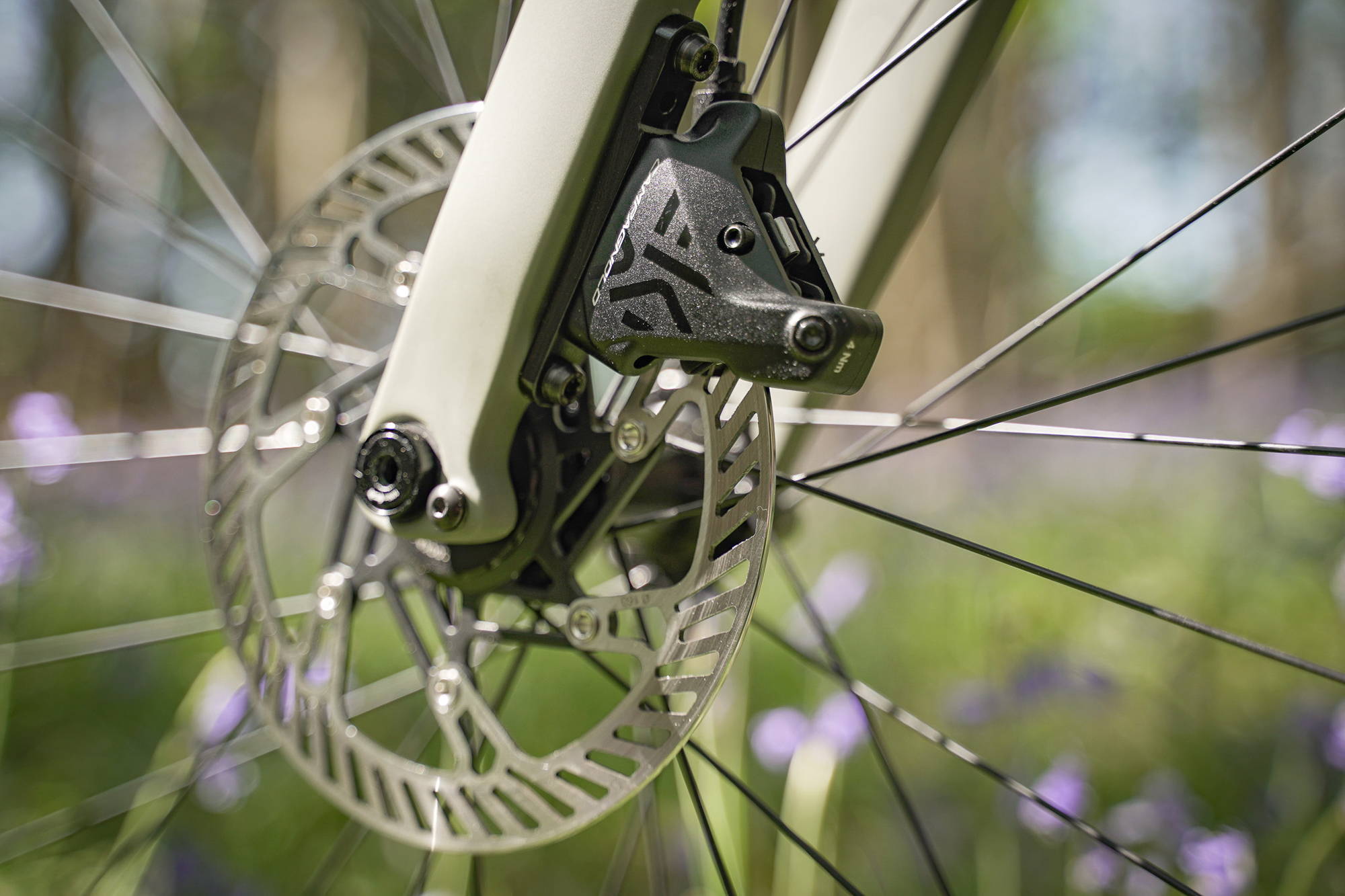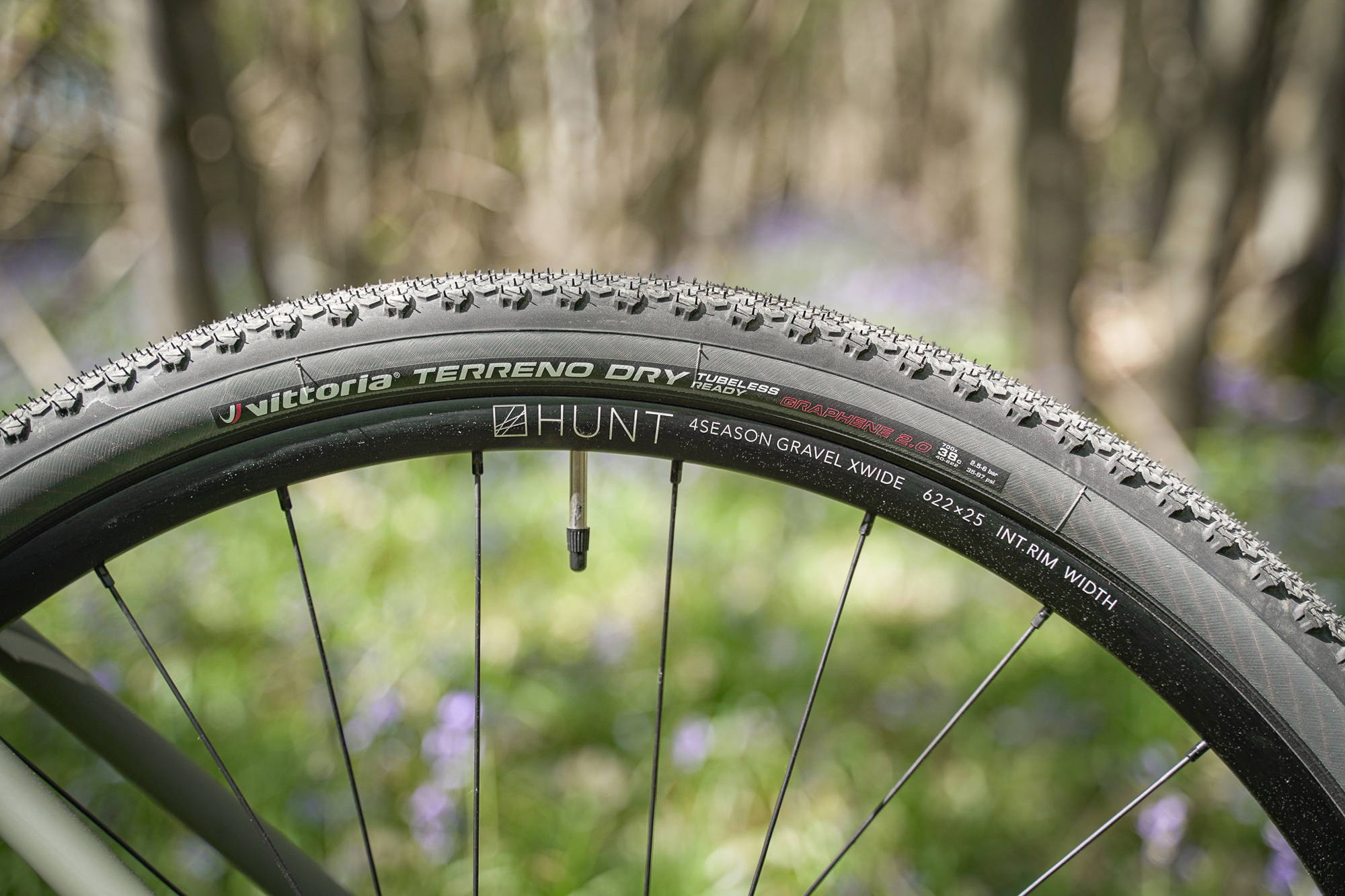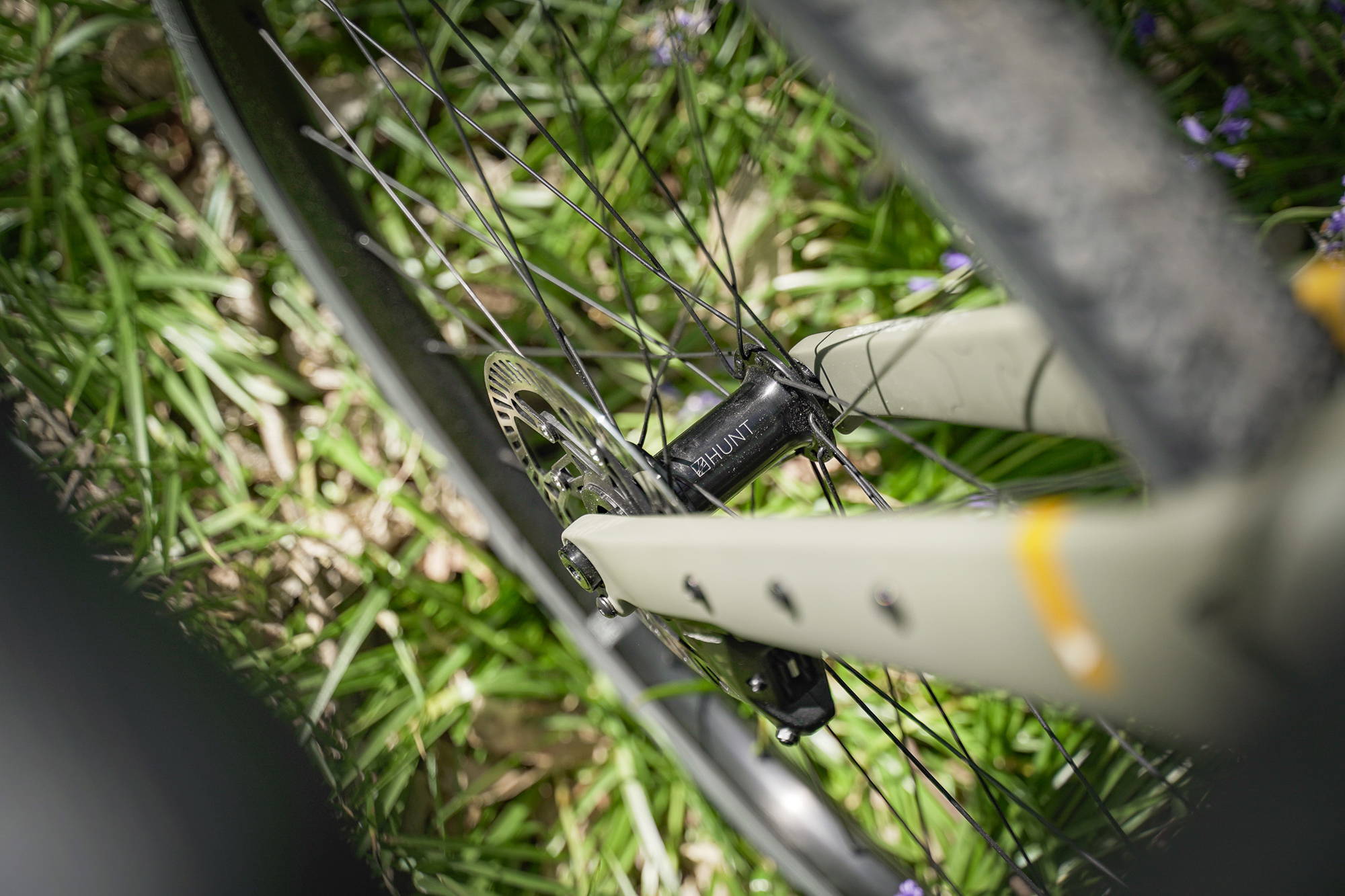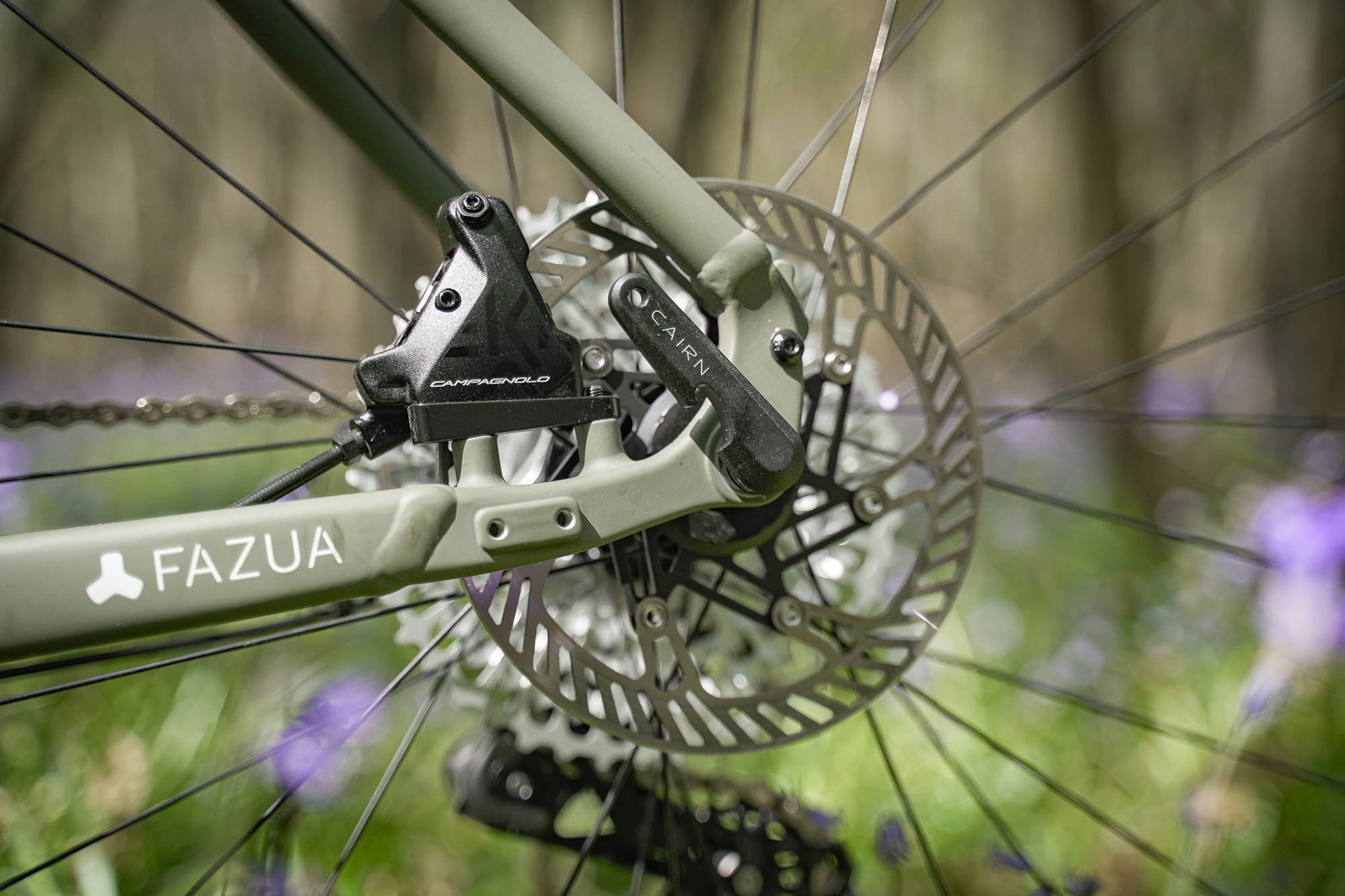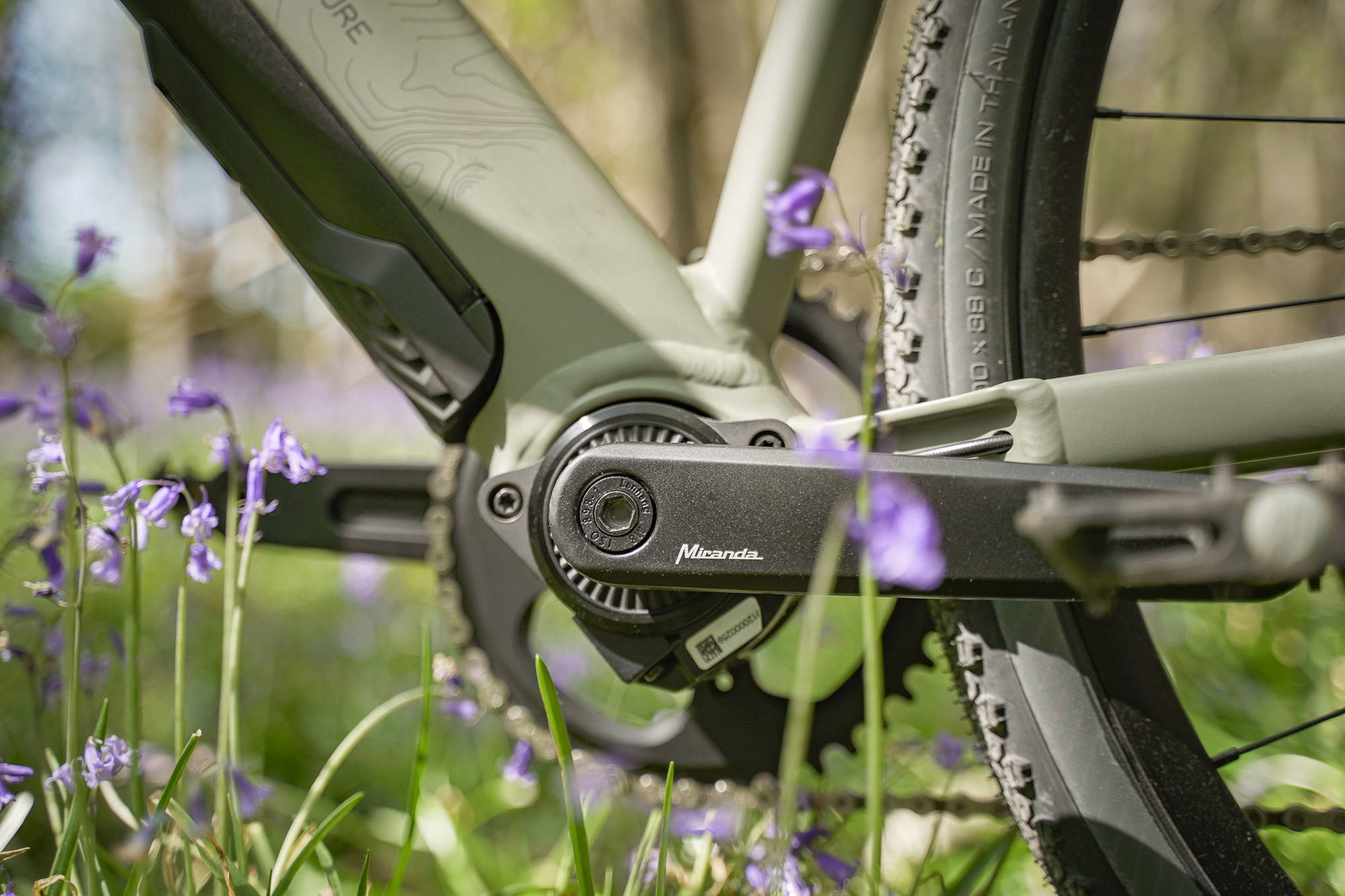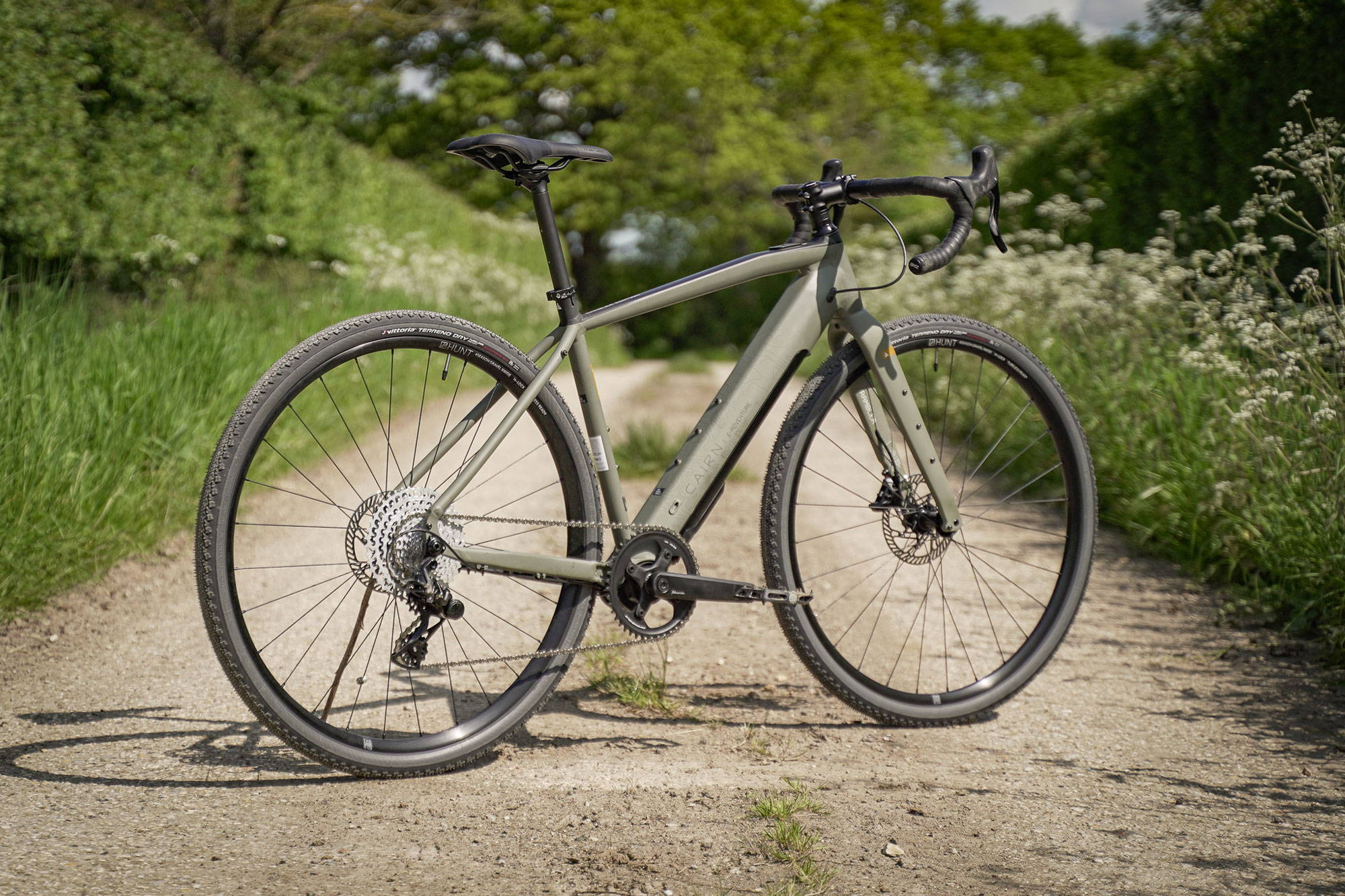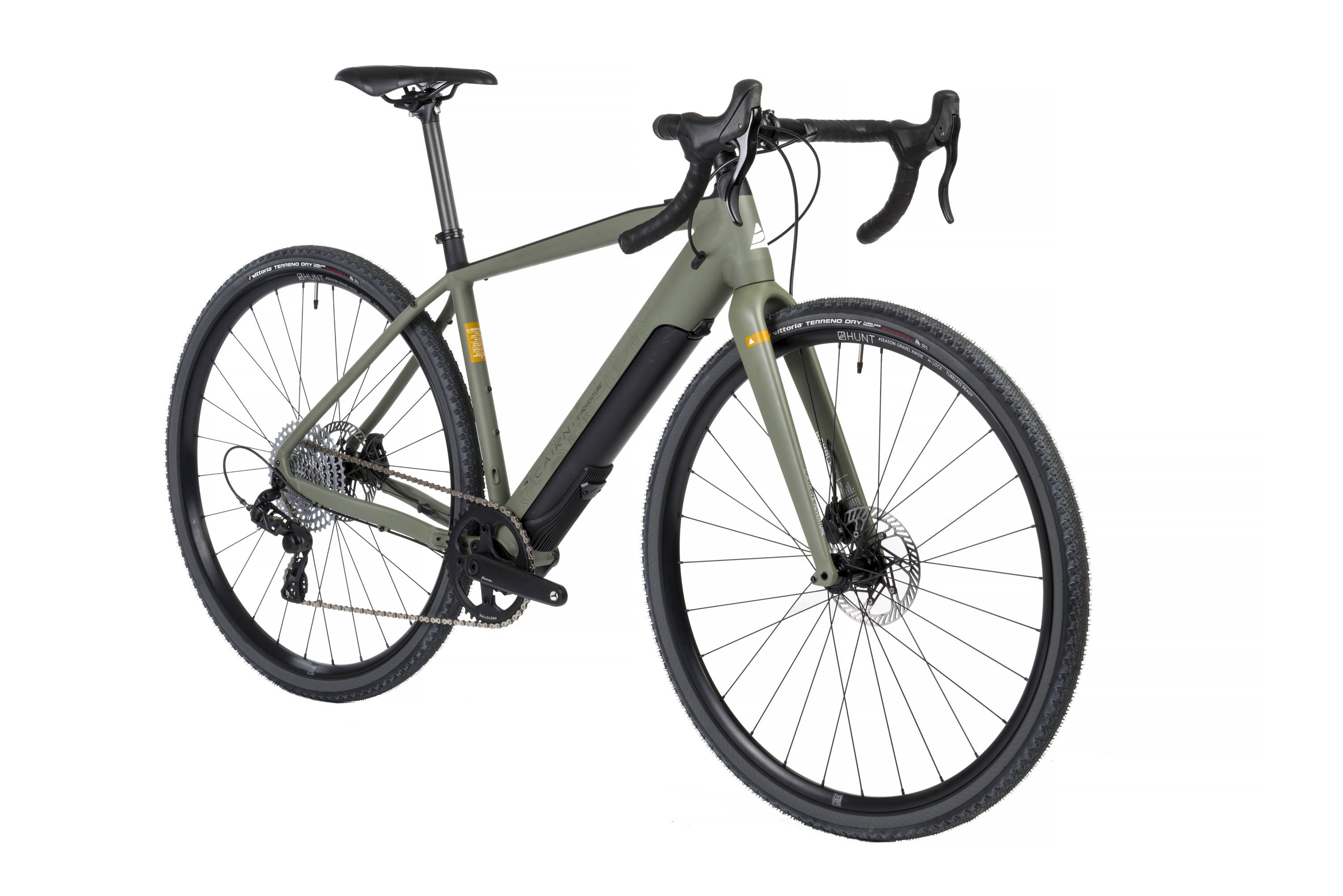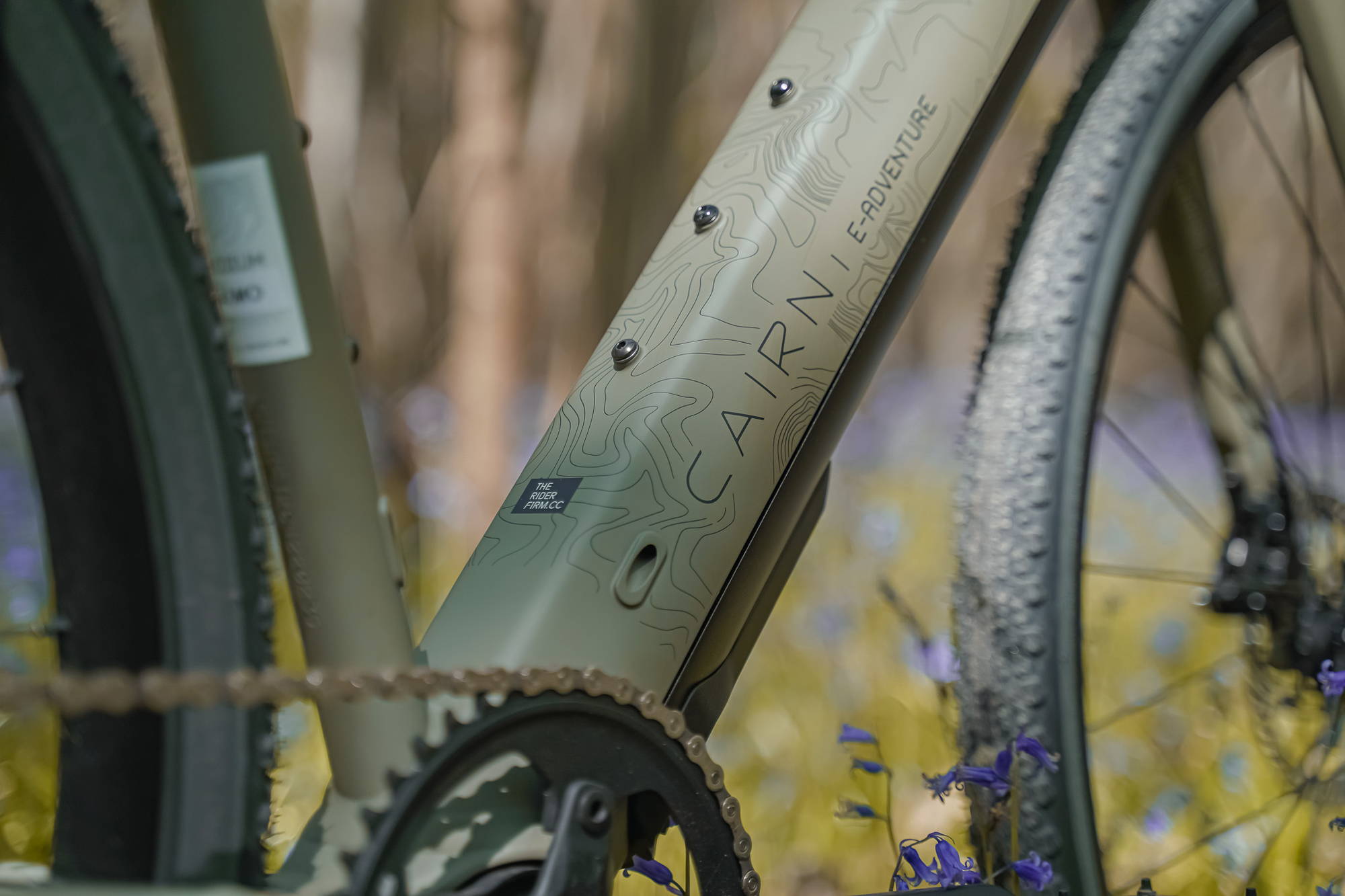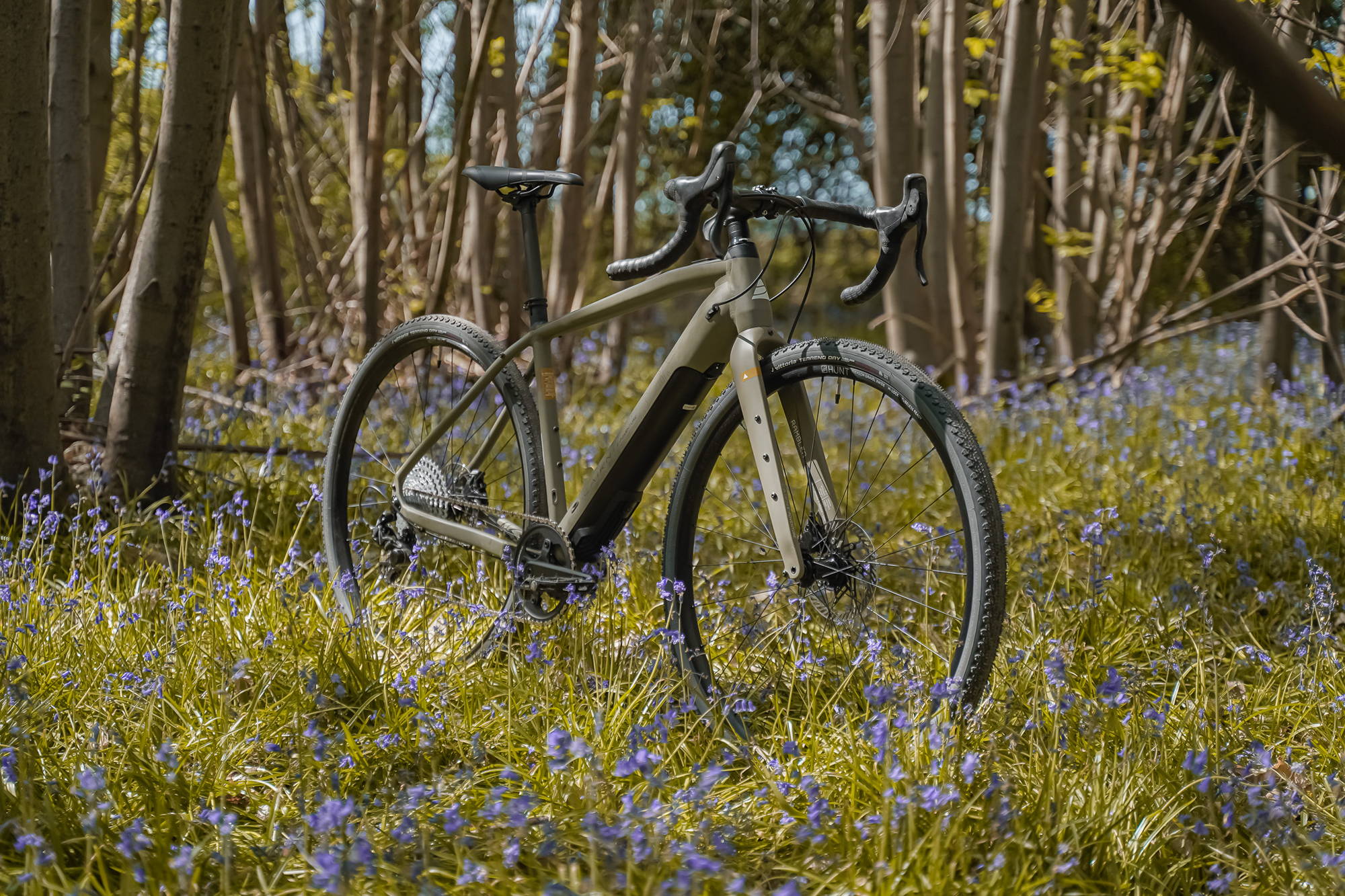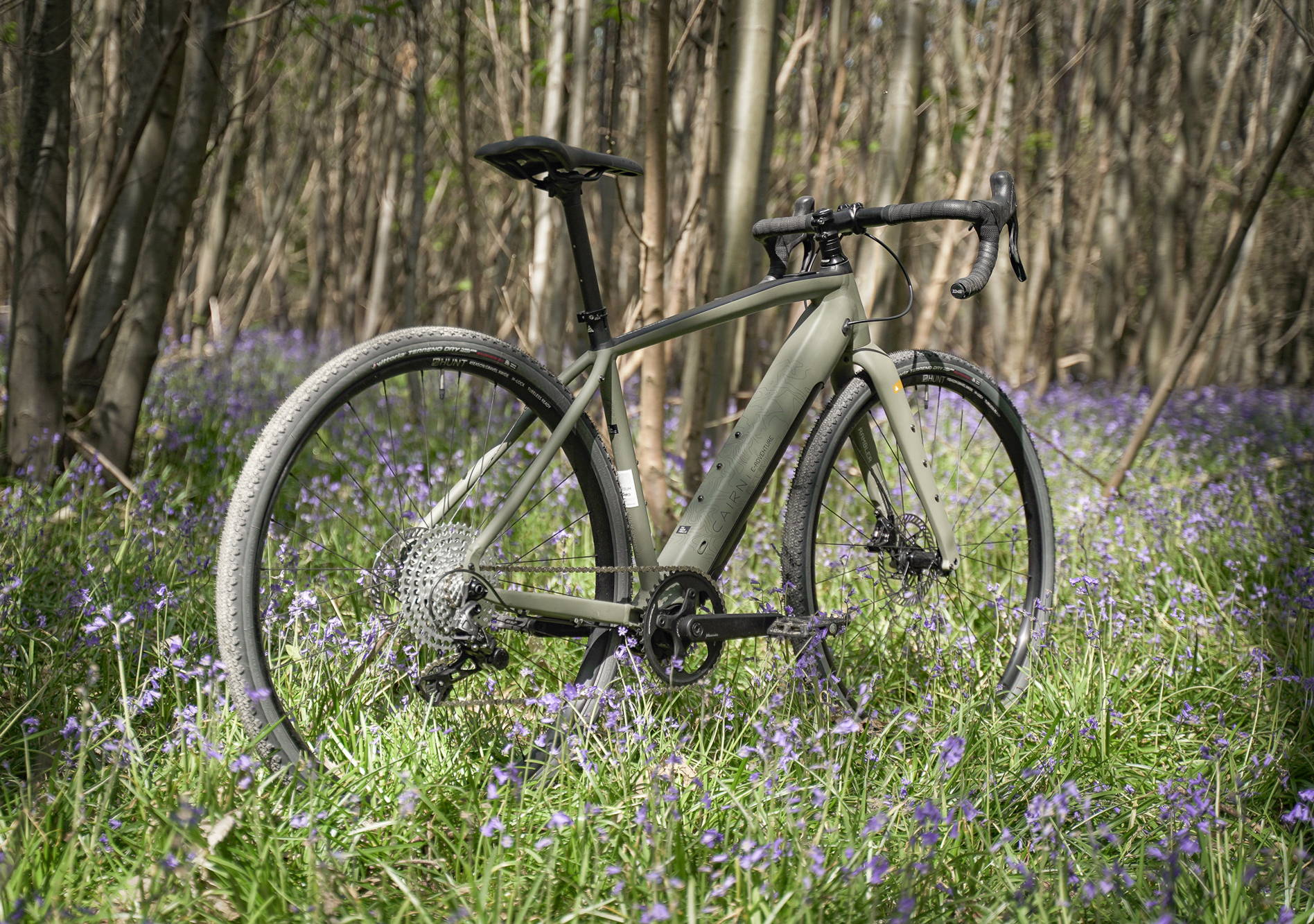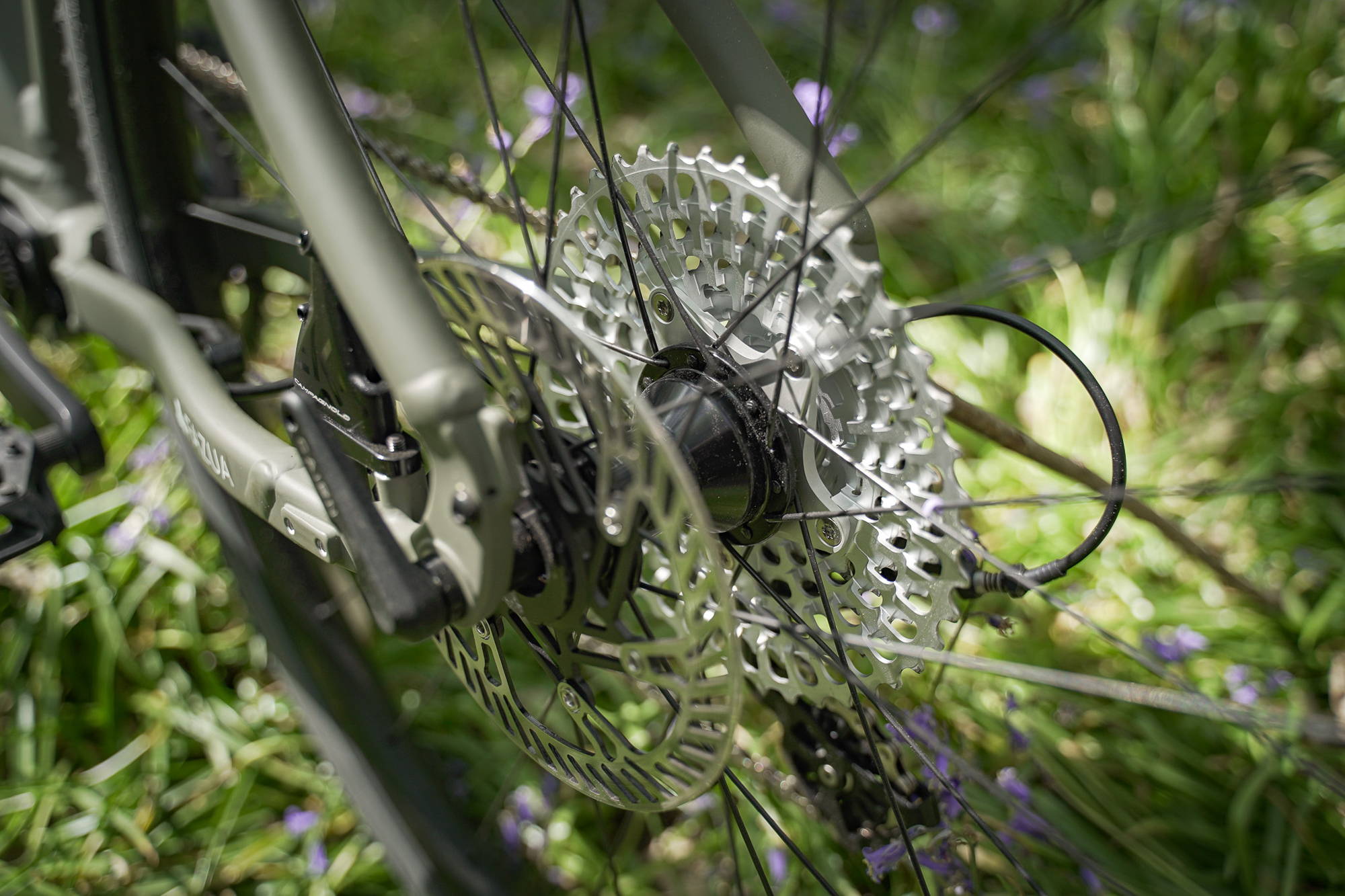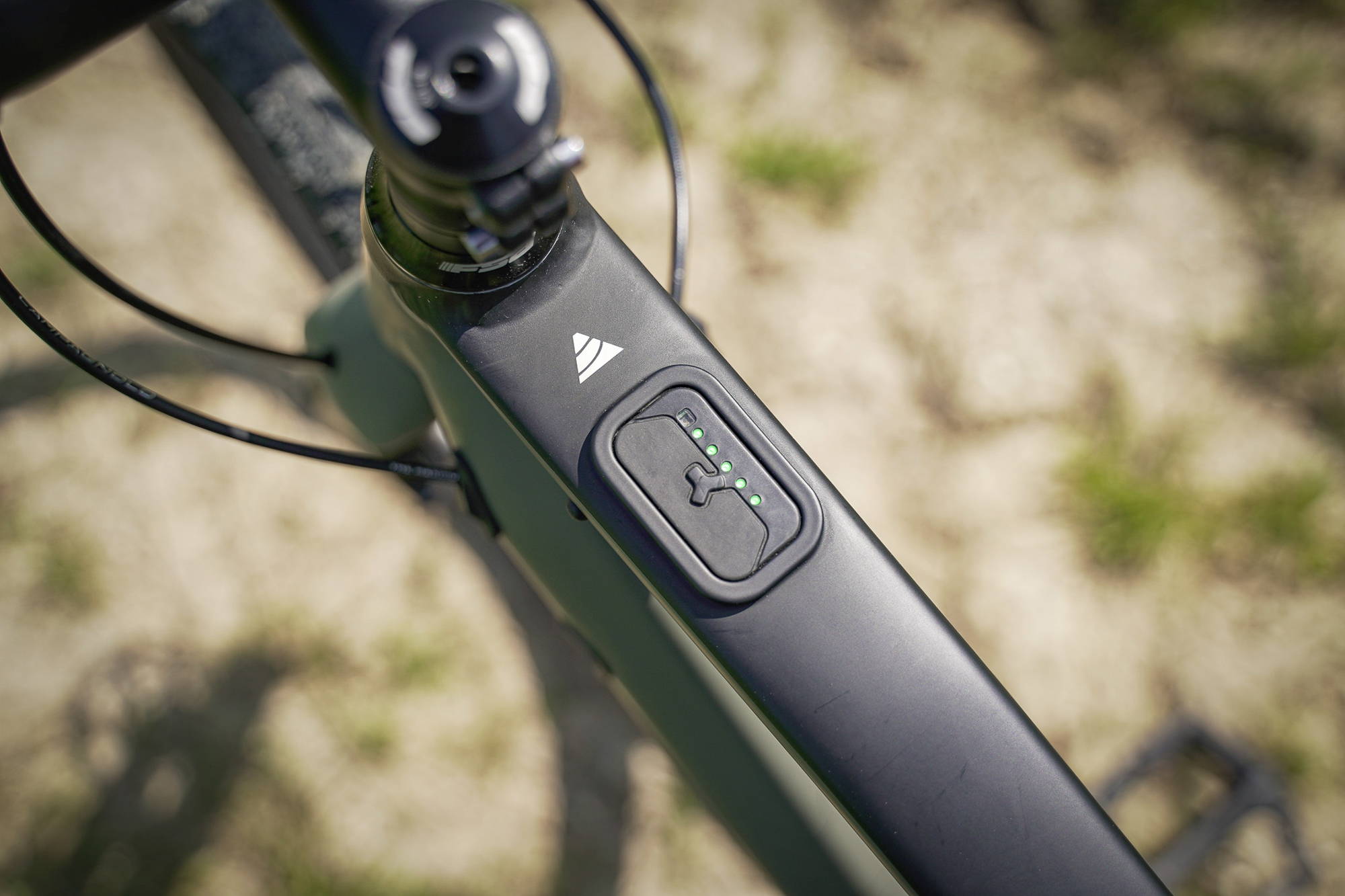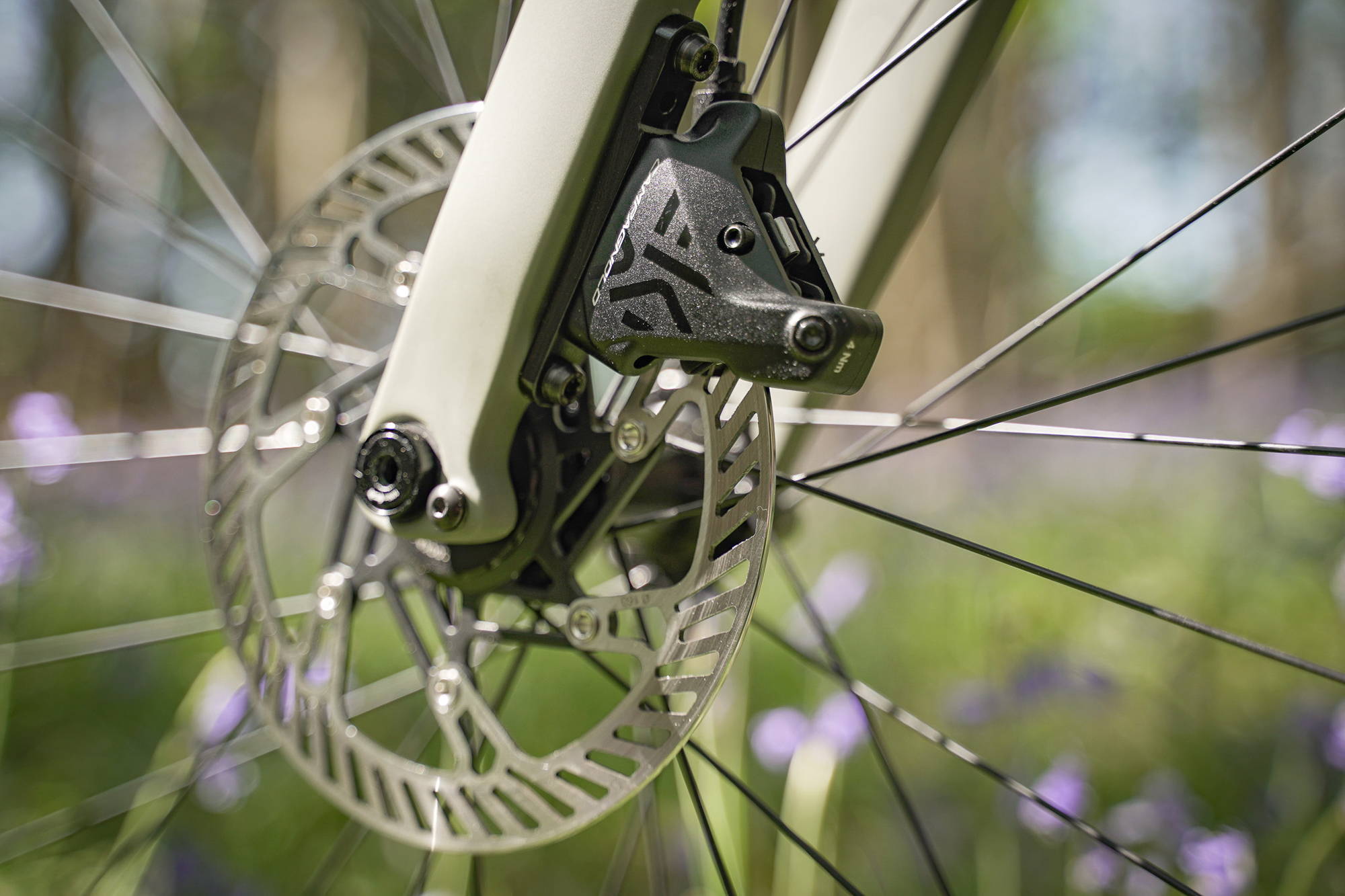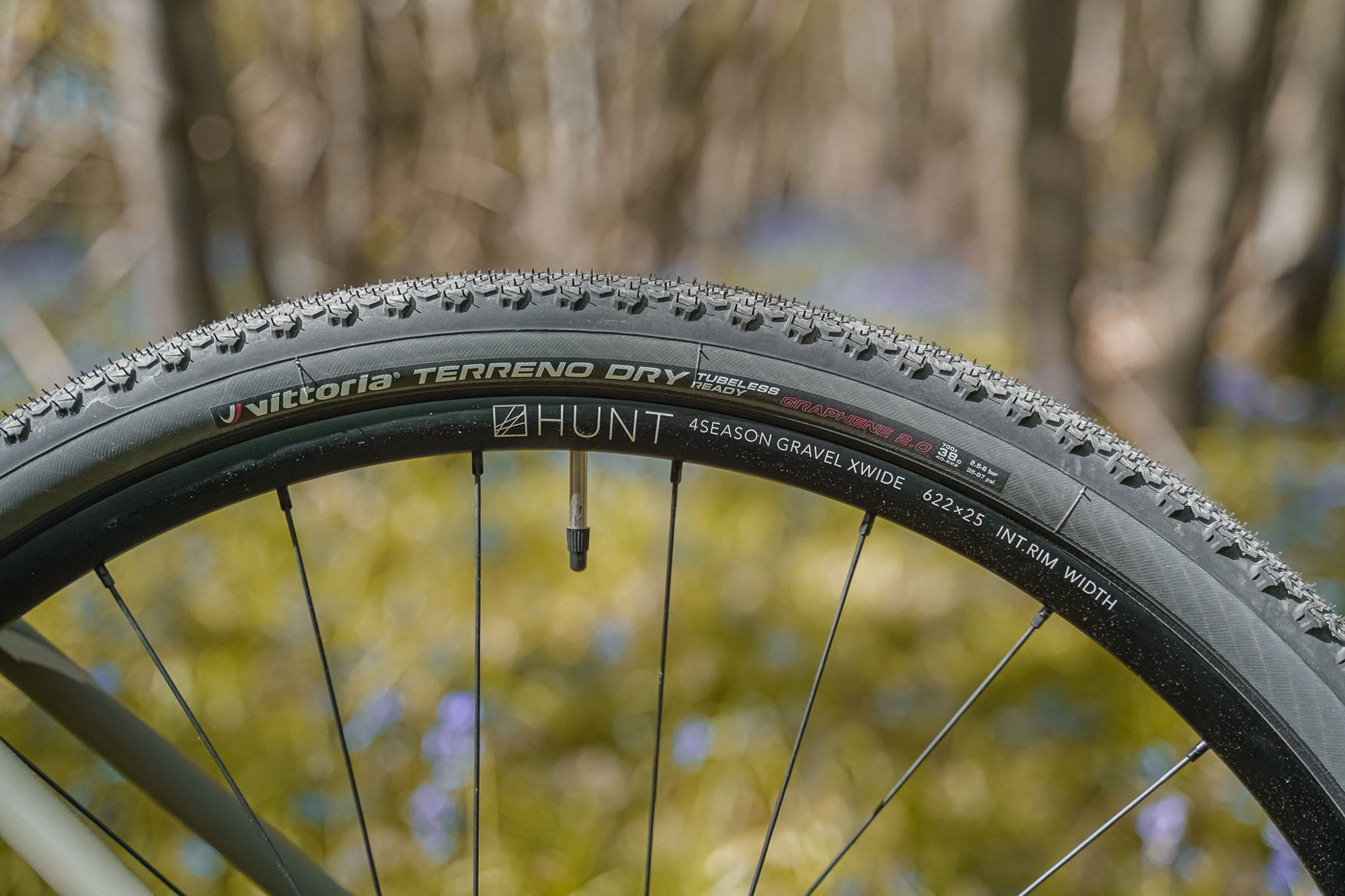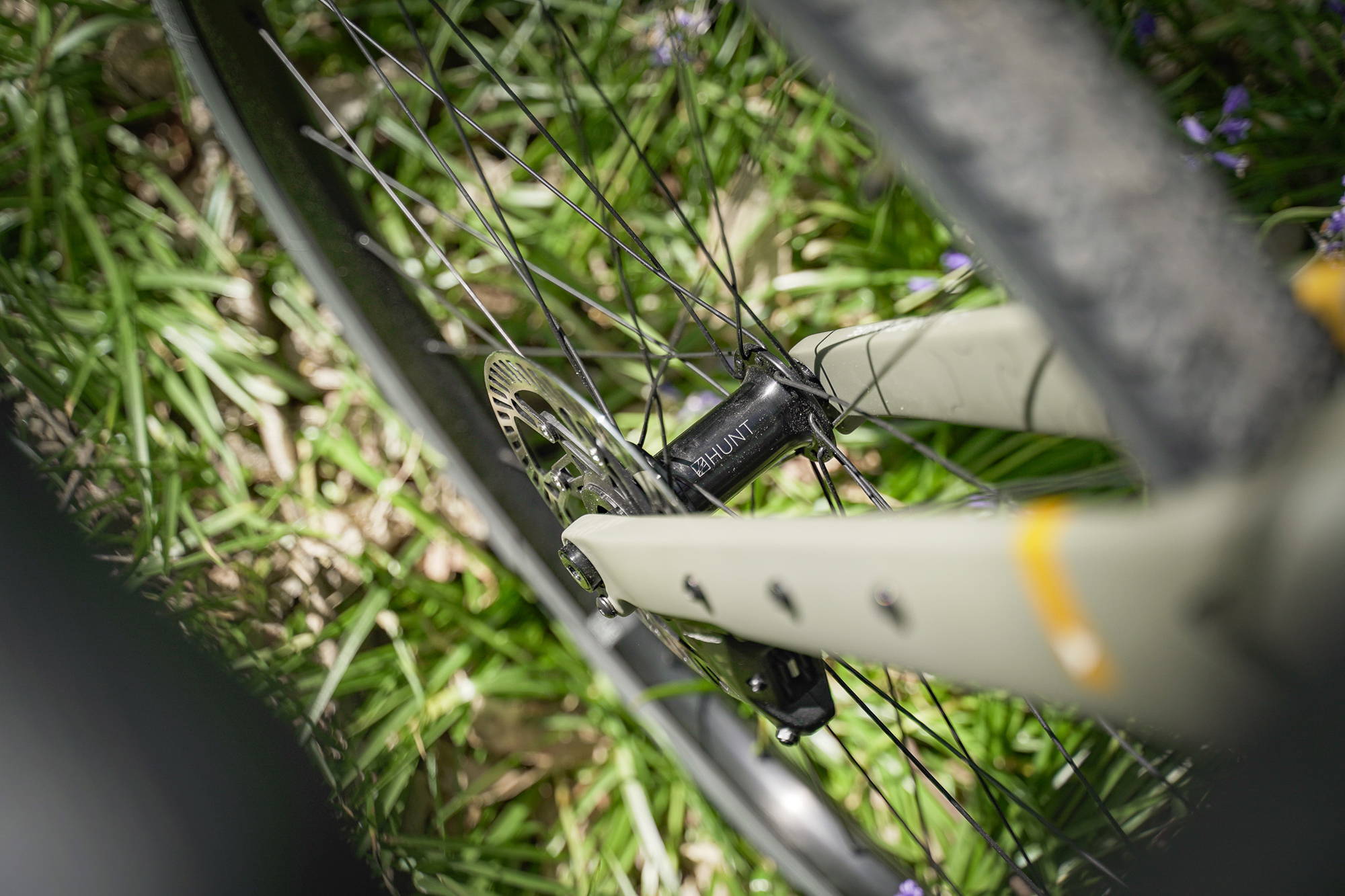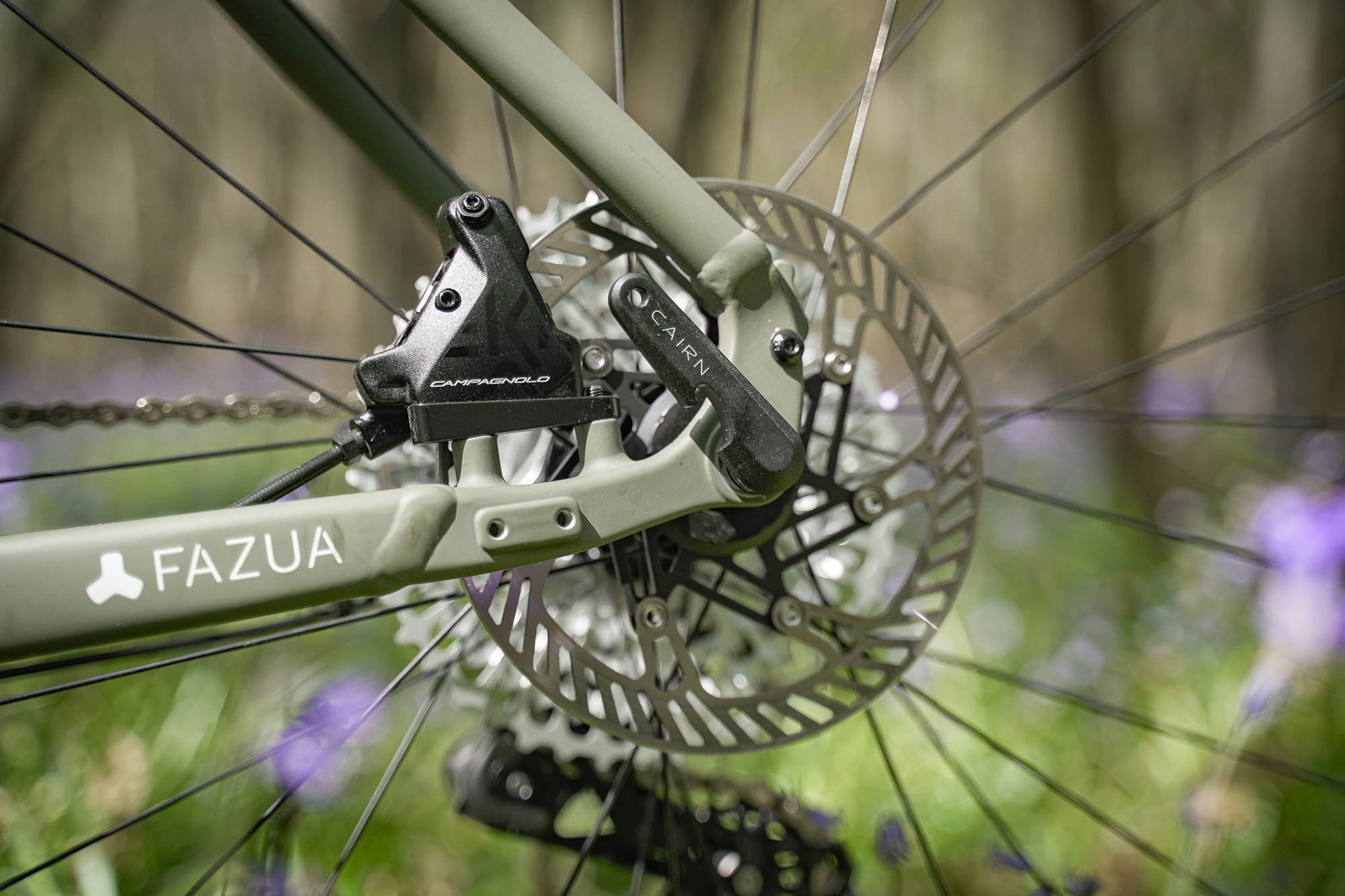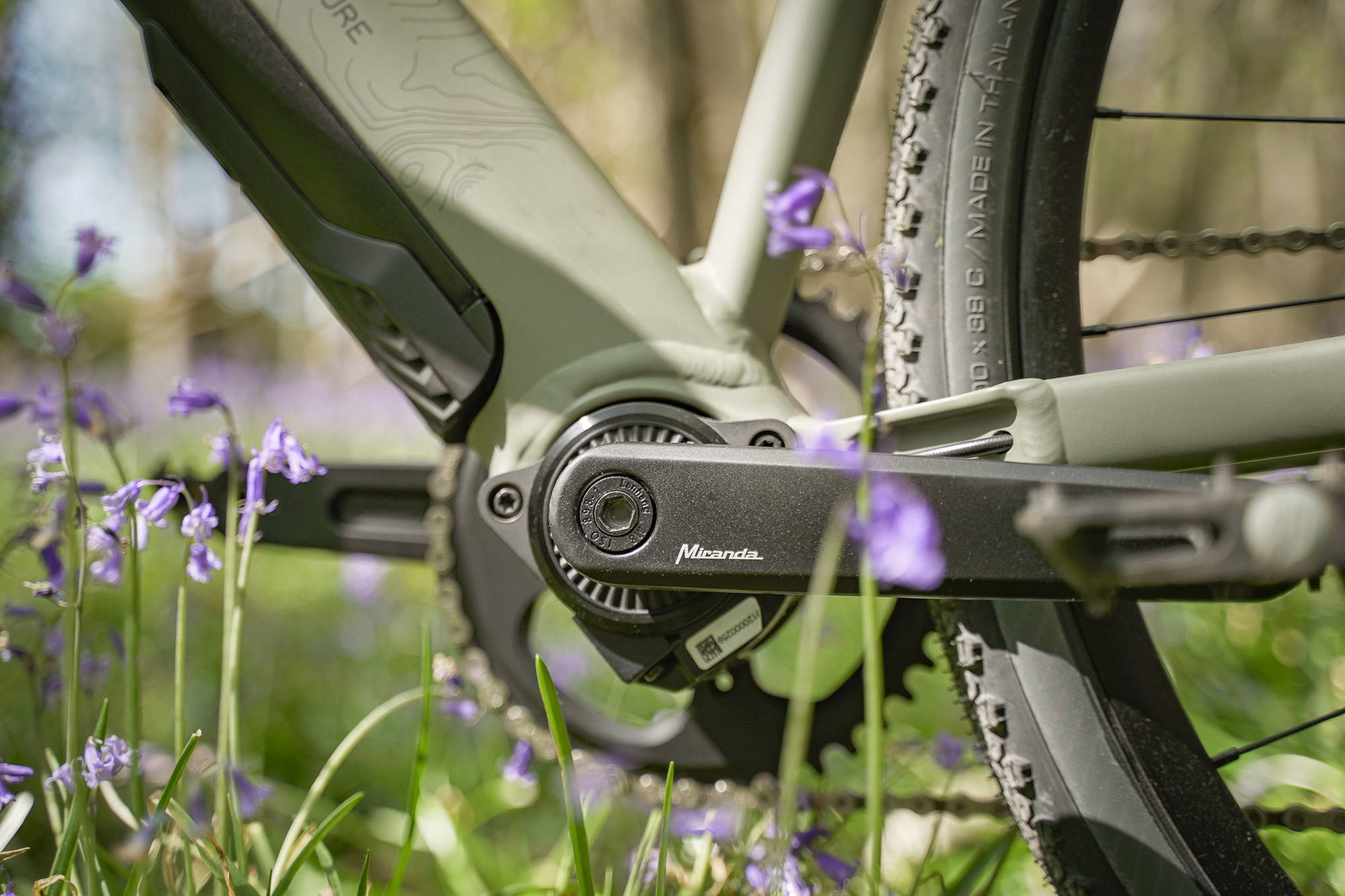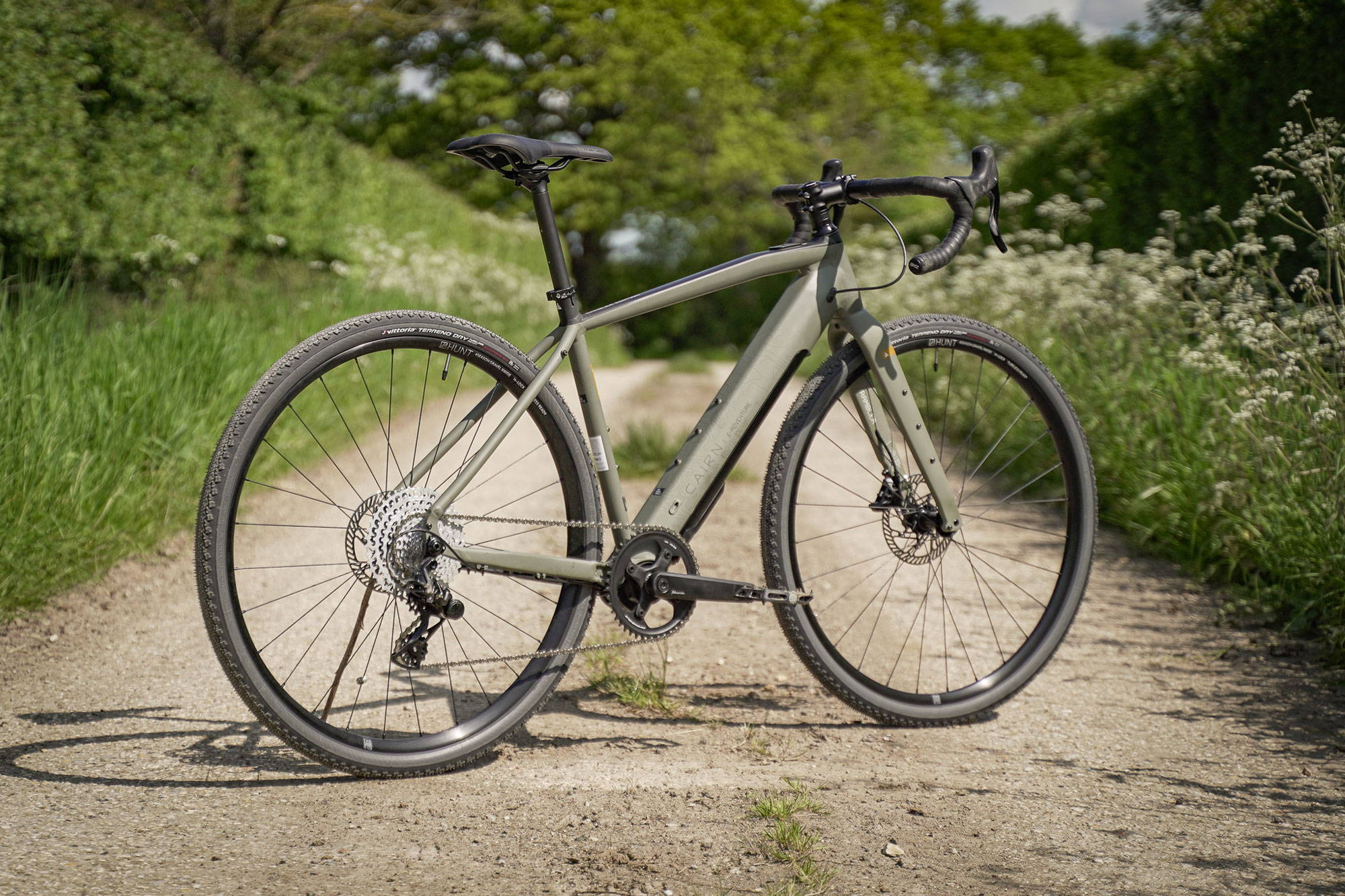 60-DAY RIDE & RETURN GUARANTEE
Fazua Ride 50 Drive System

Zero mechanical resistance for when you exceed the legal motor cut off speed.
Easily removeable battery for charging convenience.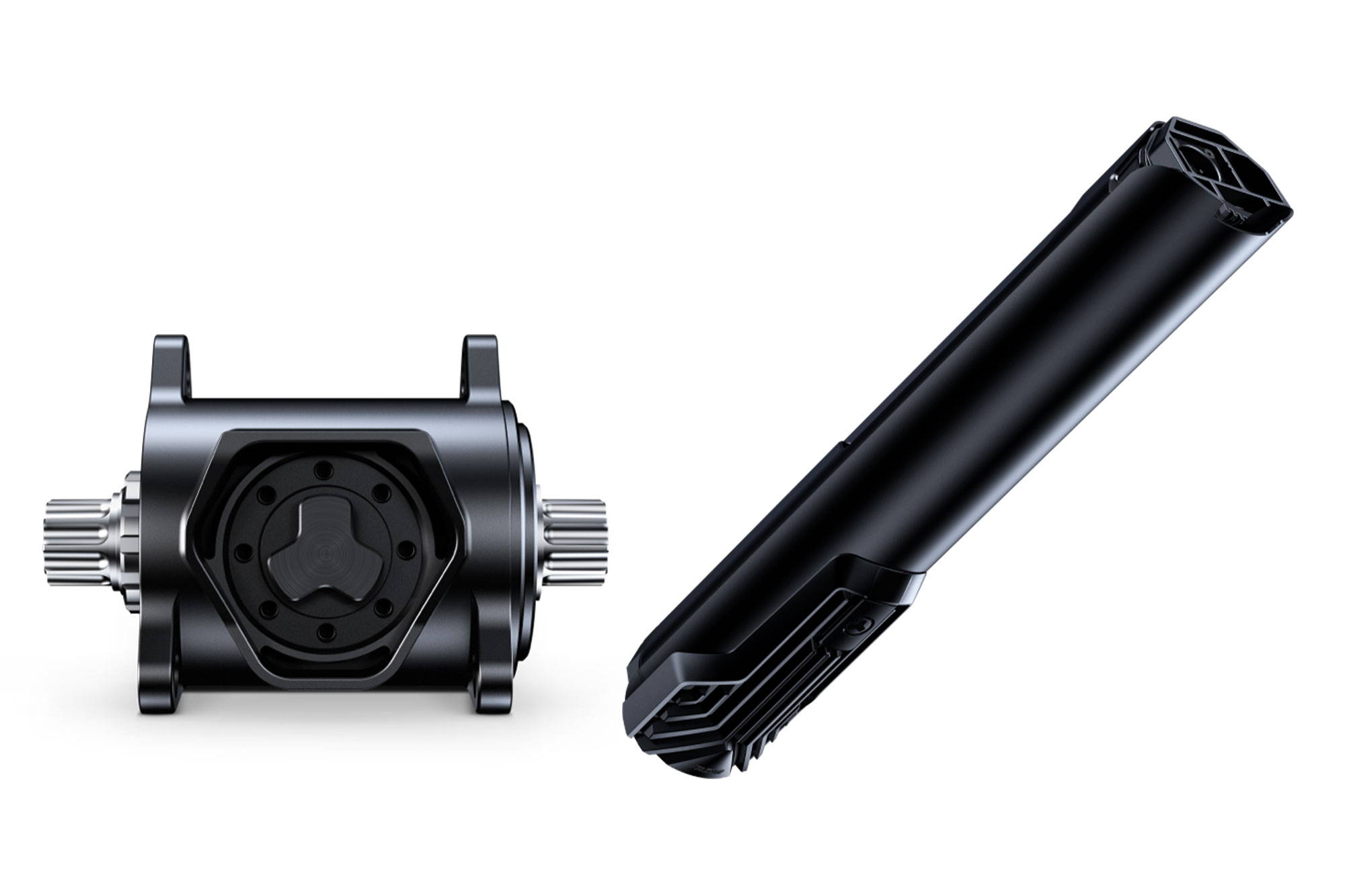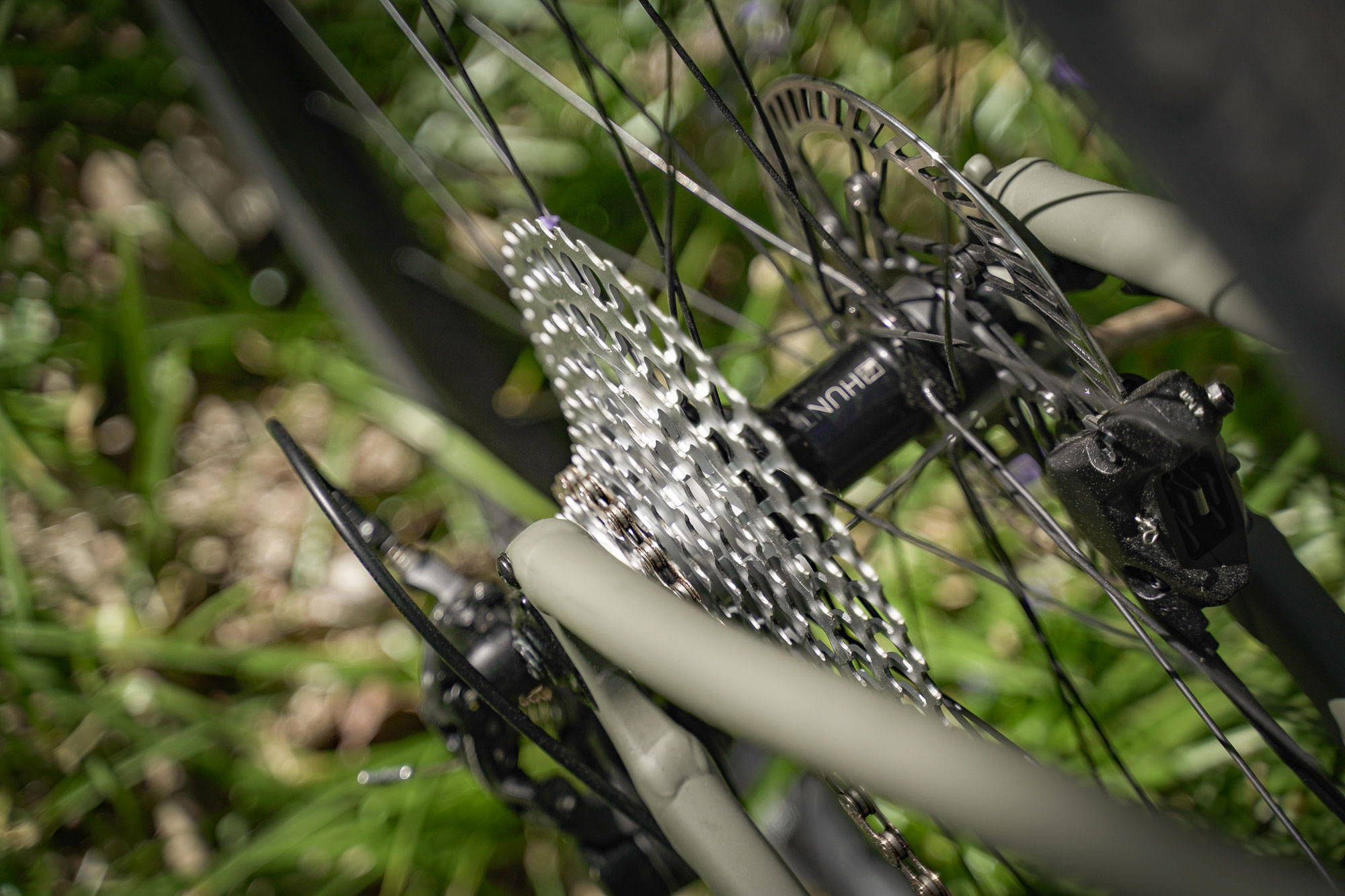 Gravel Specific Drivetrain

The Campagnolo Ekar 13-speed 10 – 44 tooth cassette offers the widest mechanical gravel gearing range on the market with the smallest jumps between gears, helping you to maintain the perfect cadence
HUNT X Cairn E-Gravel Disc Wheels

Developed specifically for the Cairn E-Adventure Rambler with a steel axle and increased pawl contact area for a longer lasting hub. The wide 25mm internal Gravel X Wide rims offer better tyre profile and allow for lower pressures, increasing traction and comfort.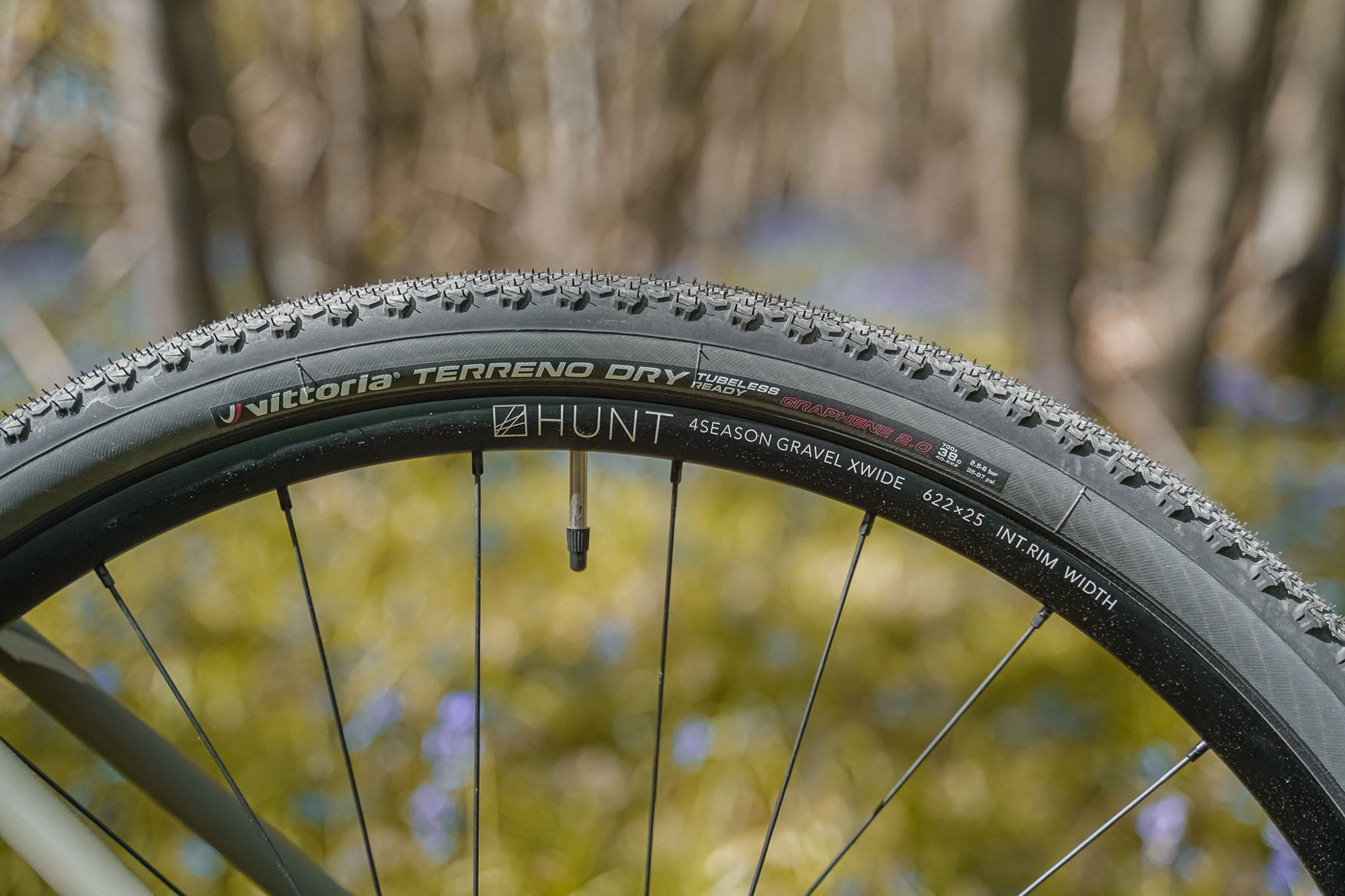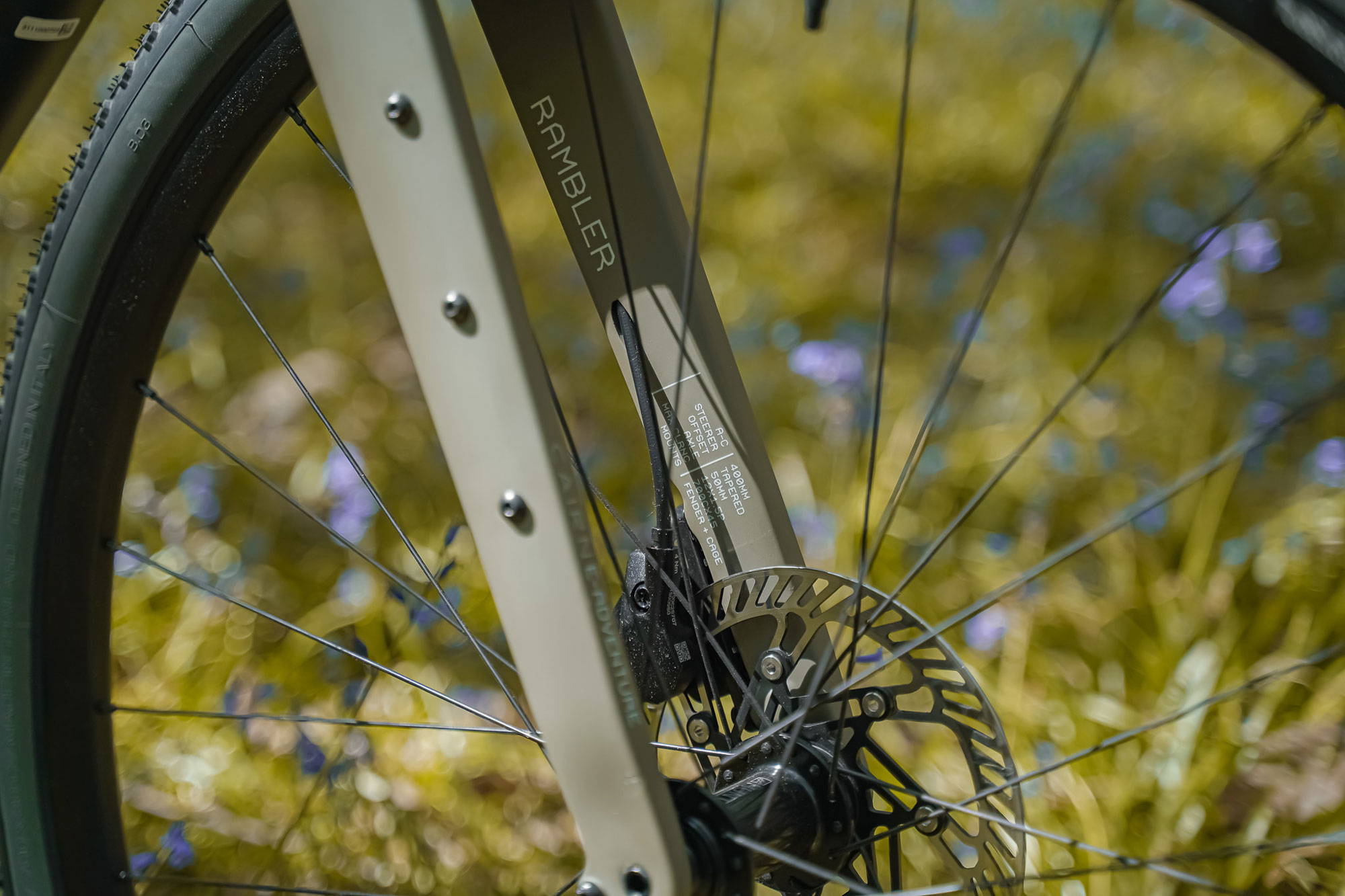 Whether you're commuting to work or tackling an all-day gravel adventure, the multiple mounting locations allow you to fix racks, guards, and bike bags.
For the E-Adventure Ramber, the shorter seat tube allows for additional flex in the seat post, increasing comfort and stand over clearance.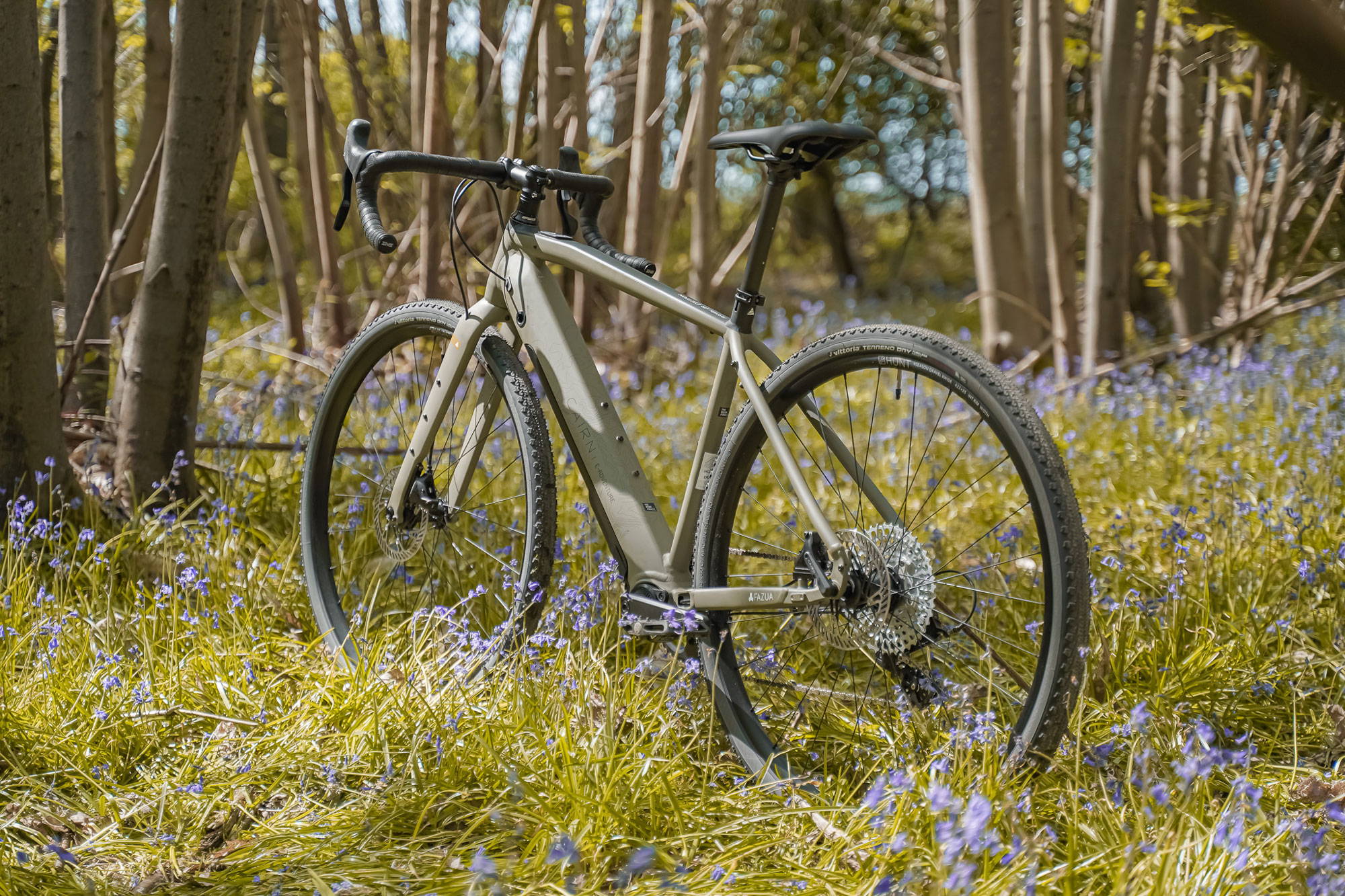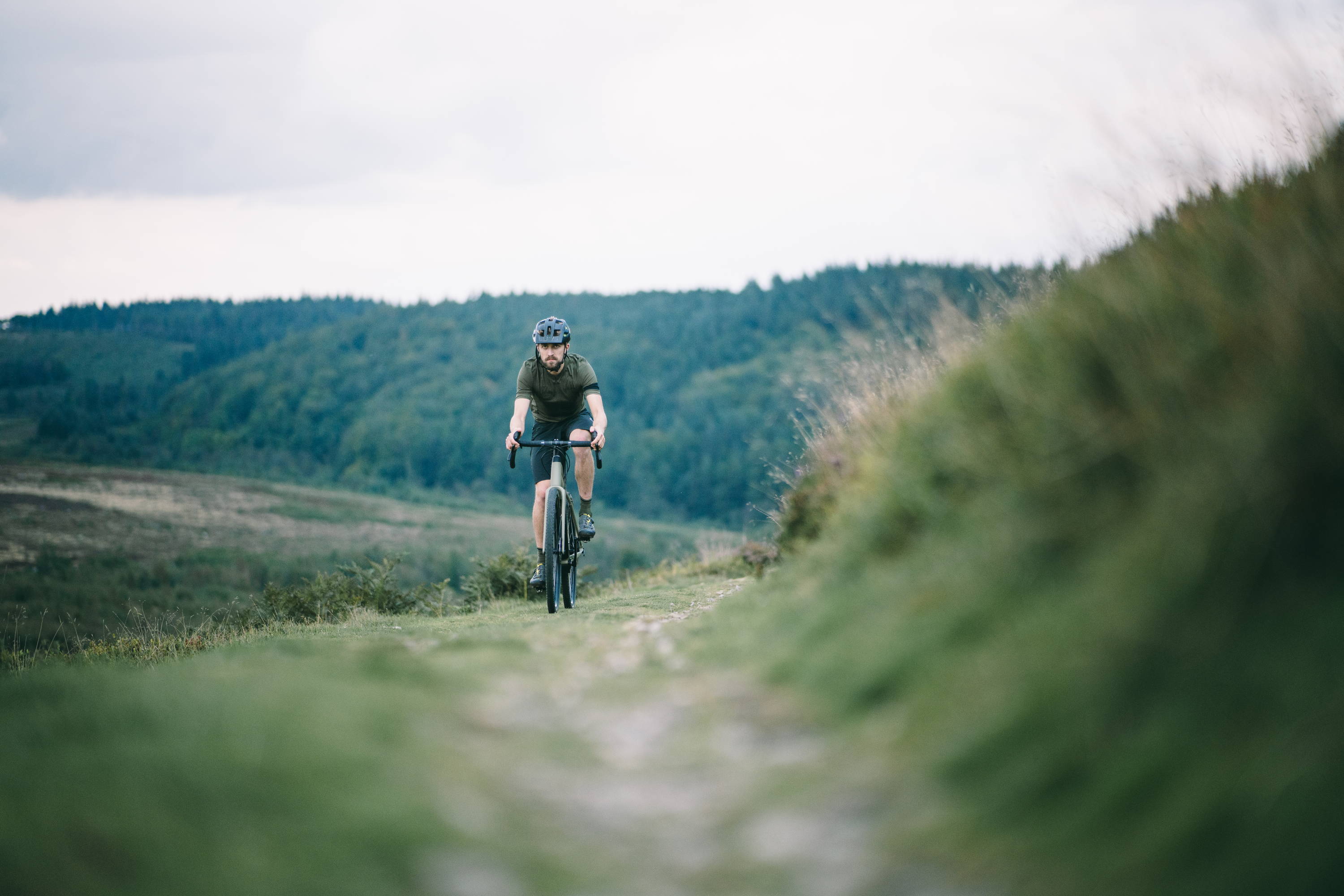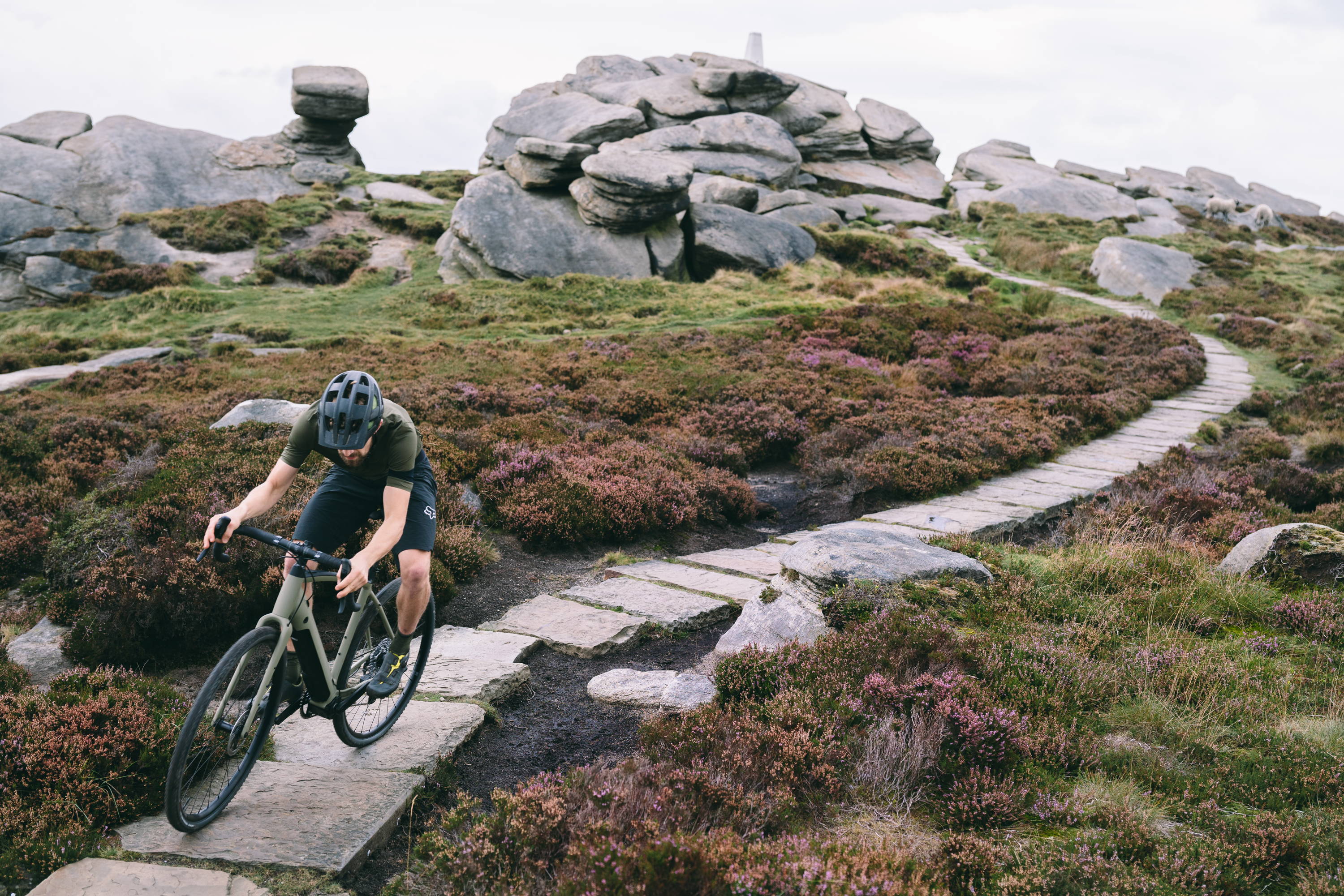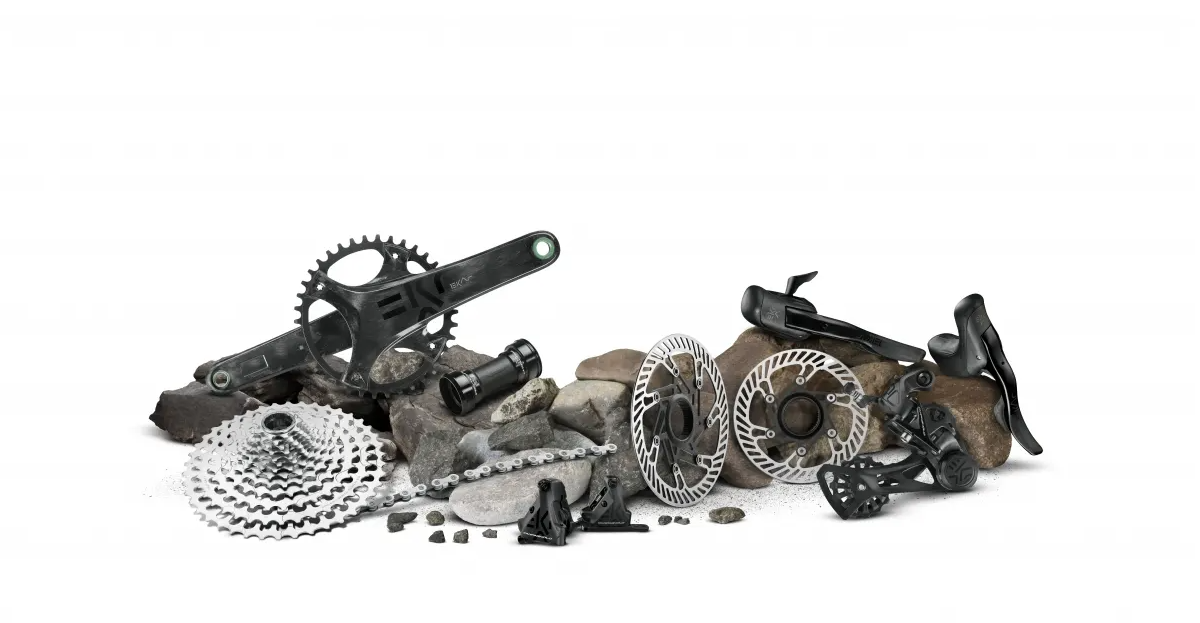 Introducing Campagnolo Ekar; born on the mountain that gave the groupset its name. Cima Ekar is a charmingly diverse little gravel paradise in the Venetian Pre-alps. Ekar is a gateway to adventure, offering a test of skill, technique and fitness. The mountain and region begs to be explored, with networks of broken roads, single track and trails pointing off in every direction.
The Ekar group set imbodies everything that has become synonymous with Campagnolo. It's the lightest Gravel groupset on the market, while still durable with heat-treated carbon steel and nickel-chrome-satin surface treatment.
The groupset's 13-speed 10 – 44 tooth cassette offers the widest mechanical gravel gearing range on the market with the smallest jumps between gears, an attribute that riders will appreciate several hours and several mountain passes into their ride.

The HUNT X Cairn E-Gravel Disc wheels have been developed specifically for the Cairn E-Adventure Rambler and feature a steel axle and increased pawl contact area for a longer lasting hub. The wide 25mm internal Gravel X Wide rims offer better tyre profile and allow for lower pressures, increasing your traction and comfort. Like all HUNT wheels, they are tubeless-ready.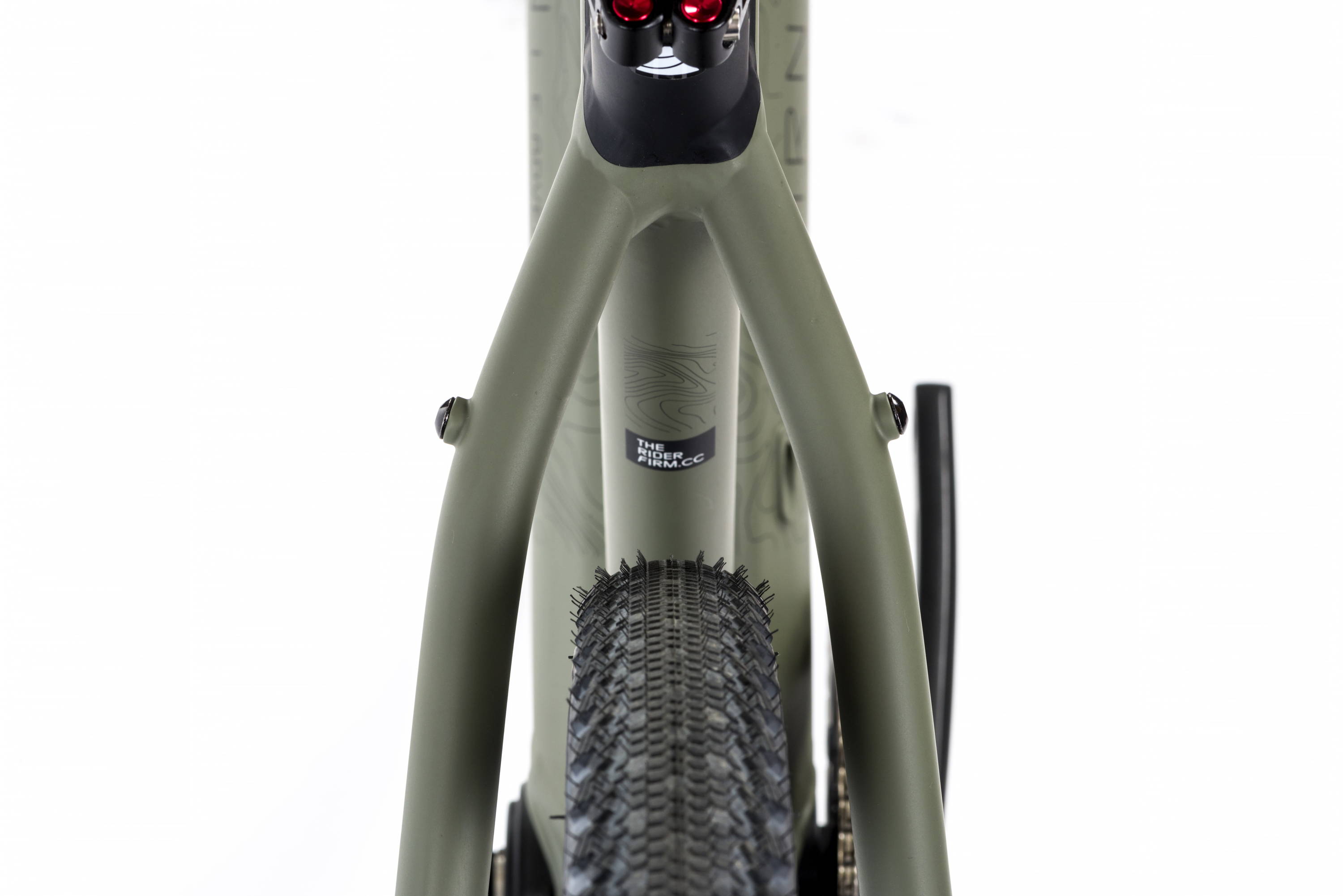 Fast, agile and offering confidence to push hard in the turns – this is what a good tyre should feel like.

Vittoria have the know how, they are one of the largest bicycle tyre manufactures in the world and the design and development that goes into the tyres is astonishing. The Terreno Dry is the perfect choice for the Rambler and features 3 compounds (with added Graphene) to deliver ultimate performance in a straight line and corners alike.

6061-T6 alloy with Top Tube integrated Fazua touch remote. 12x124mm rear spacing.
Full Carbon with Anything mounts on both legs (max tyre clearance 700x45c). 12x100mm spacing.
Hunt Gravel X Wide Rim, Hunt E-Gravel Hub, Pillar Triple Butted Spokes.
Vittoria Terrano Dry 700 x 38c
Cairn Adventure 20 Degree Flare, 65mm Reach, 105mm Drop XS/S 42cm, M/L - 46cm, XL - 48cm
Cairn Adventure 6061-T6 - XS/S/M- 70mm, L/XL - 90mm
Miranda Delta Alloy w/ 44t Spider XS/S - 165mm, M/L - 170mm, XL - 175mm
Campagnolo Ekar 13 speed 10-44T
Campagnolo Ekar, hydraulic disc brake levers, 13-speed mechanical shifting
Selle Italia X Base 143mm
Cairn Carbon Seat post 27.2mm 350mm
Cairn Alloy Thru Axle w/Removable Bottle Opener Handle
Removeable rear mudguard bridge
14.3kg Medium w/Motor and Battery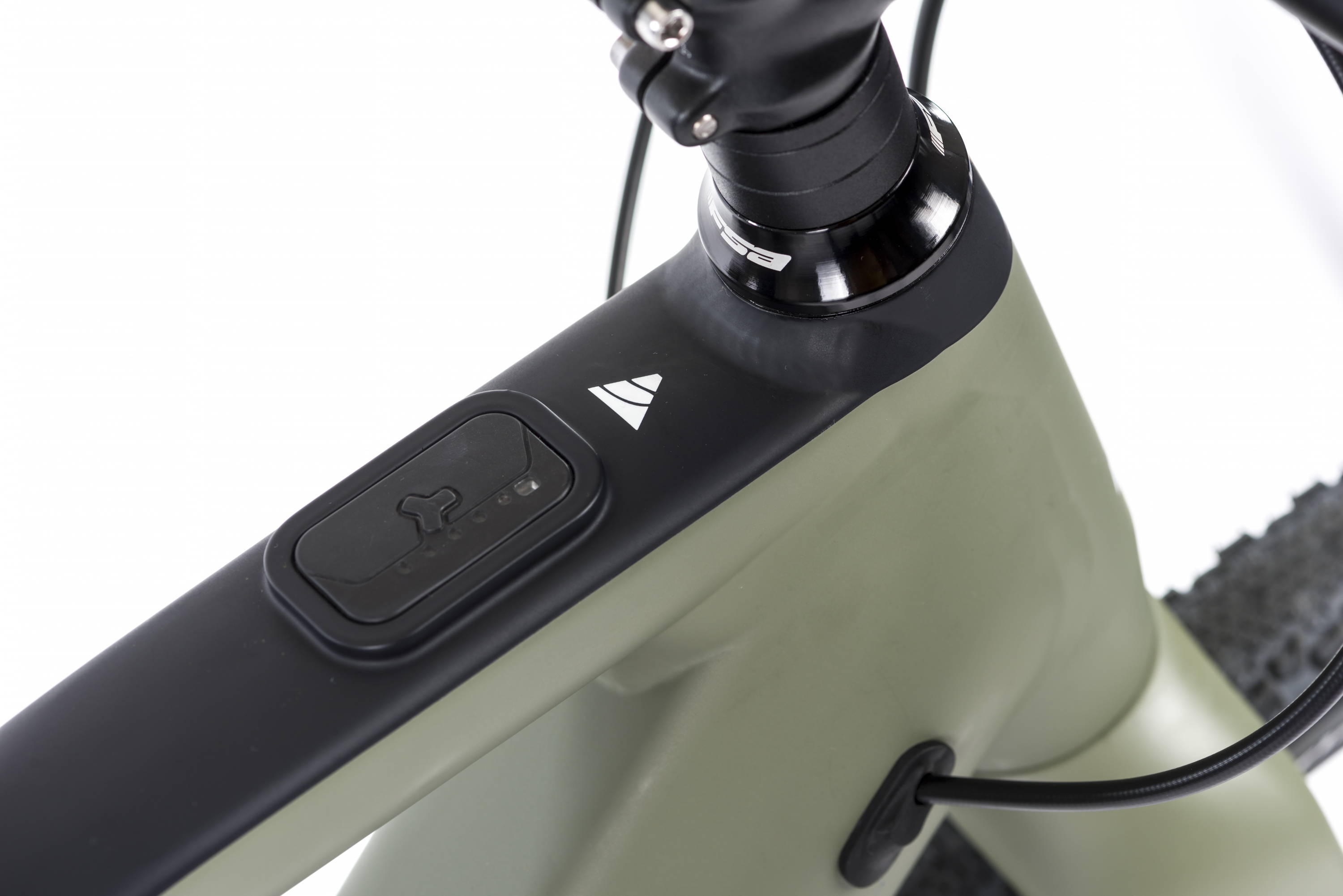 For the Rambler, we continued to partner with the team at Fazua and spec their Ride 50 Street Drive Pack.
Its integration and natural pedal feel were exactly what we were looking for to complement our bikes. At only 4.6kg for the full system, it helps to create an incredibly lightweight and nimble e-bike. Furthermore, the system has no mechanical resistance if not in use, meaning you can choose to ride it as a normal/analogue bike without any drawbacks.
Choose from three levels of assistance or pedal without any help at all:
Breeze (~100 watts*)
Gentle constant. Like a strong tailwind even at low rider power.
*default settings
River (~210 watts*)
Progressive and very sporty mode, for a smooth riding experience! The strength of the support precisely follows your own power. Give a lot - and get a lot from the motor.
Rocket (~250 watts*)
Aggressive assistance that helps you to tackle the very steepest climbs. This one will put a big grin on your face!
Ride 50 Street Drive Pack

Fazua's all-new Ride 50 Street drive pack takes the original Evation system to the next level. The new drive pack features increased torque output, now putting out up to 58Nm of torque, helping tackle those technical or steep climbs. New cooling fins are present to manage system temperature.
The Ride 50 Street bottom bracket unit sees the biggest changes, with new torque and cadence sensors increasing the sensitivity of the unit by 70%. This will allow the system to further smooth out that natural ride feel that the Fazua Evation system has become known for.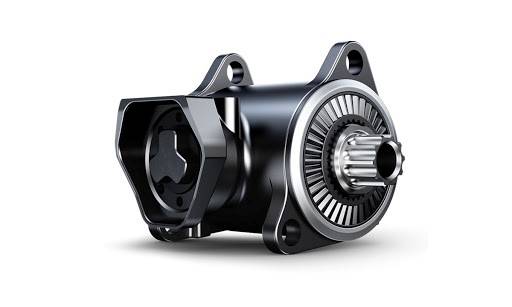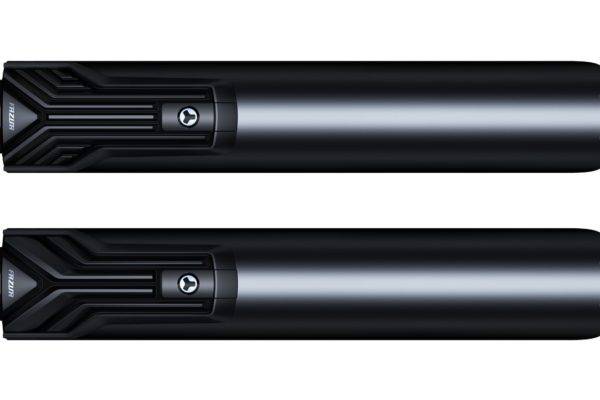 The Energy 250x battery brings the final flourish of details to the build. The 250x offers the capability to turn your bike on and off from the remote (mounted in the top tube).
A new cap on the charging port adds a nice touch and reduces maintenance in the future.
Bike Magazine & Website Expert's View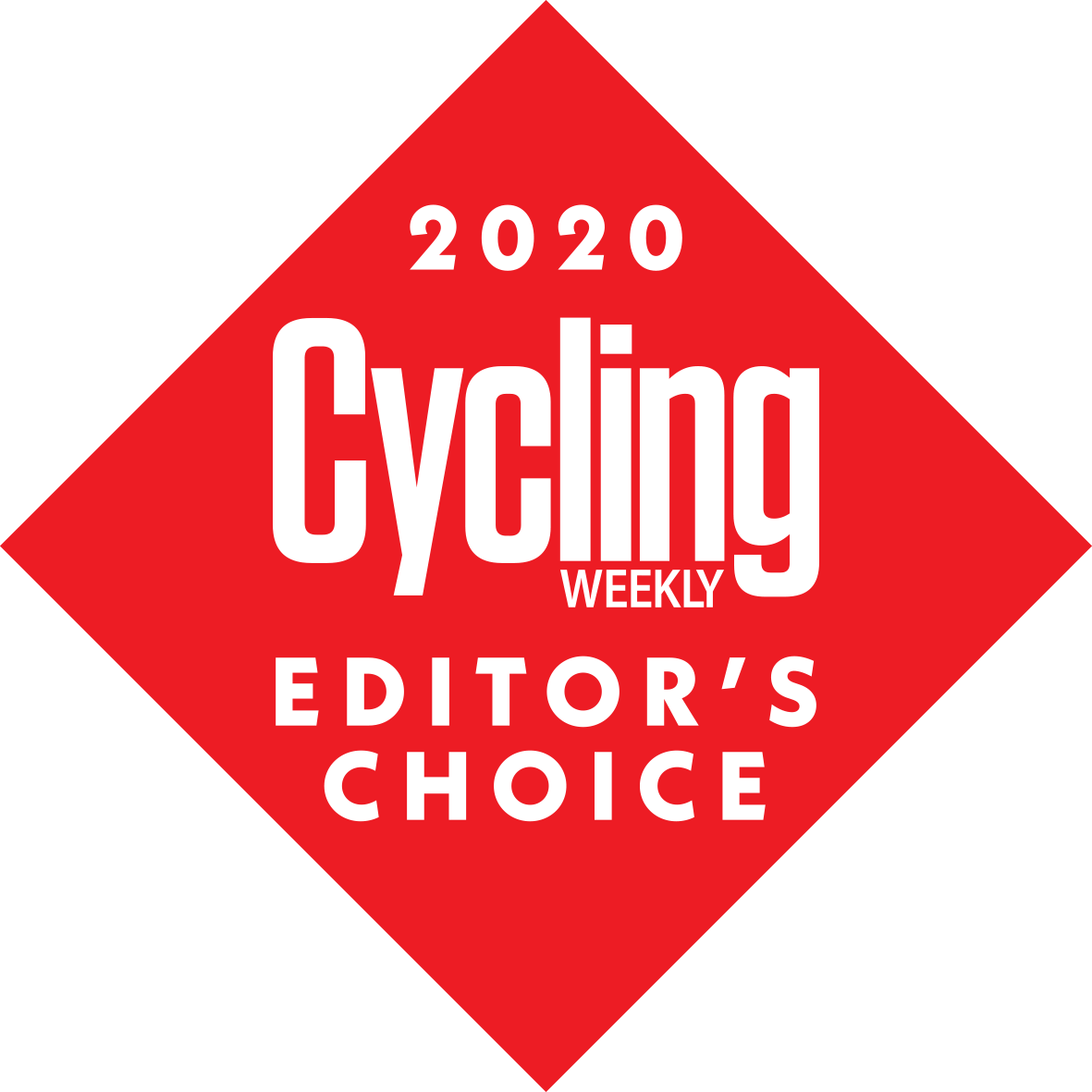 2020 Cycling Weekly Editor's Choice

"The E-Adventure 1.0 is an incredibly likeable bike to ride. I can be pretty on the fence when it comes to e-bikes, preferring like many for my legs to be the main performance delivery system for my riding. But after the first ride I came away with the same sense of rewarded effort as if I had ridden a 'normal' gravel bike – but one that I managed to ride farther than my legs felt like they had ridden."

Singletrack Charged Full Review

'They produce products that they want to use, and the Cairn is a product of that: it's a bike to replace a car, go to work the long way round, and throw in a bit of weekend adventure.'
Featuring all-new geometry, the Rambler Edition aims to bring the rider more control without taking away the lively and responsive feel our bikes are known for.
The steeper 74-degree seat tube angle allows for better climbing on rough terrain, giving you a more efficient pedalling position, whilst maintaining all-important rear wheel traction. Combined with the slacker 70-degree head angle and increased 75mm trail, coming back downt the hill is a more predictable, stable and comfortable, experience, empowering the rider to let off the brakes and push the bike further.
The net result of the geometry changes is a riding position that puts the rider more in the bike than perched on top, achieved by increasing the bottom bracket drop to 80mm whilst maintaining a stack height with manageable saddle-to-bar drop.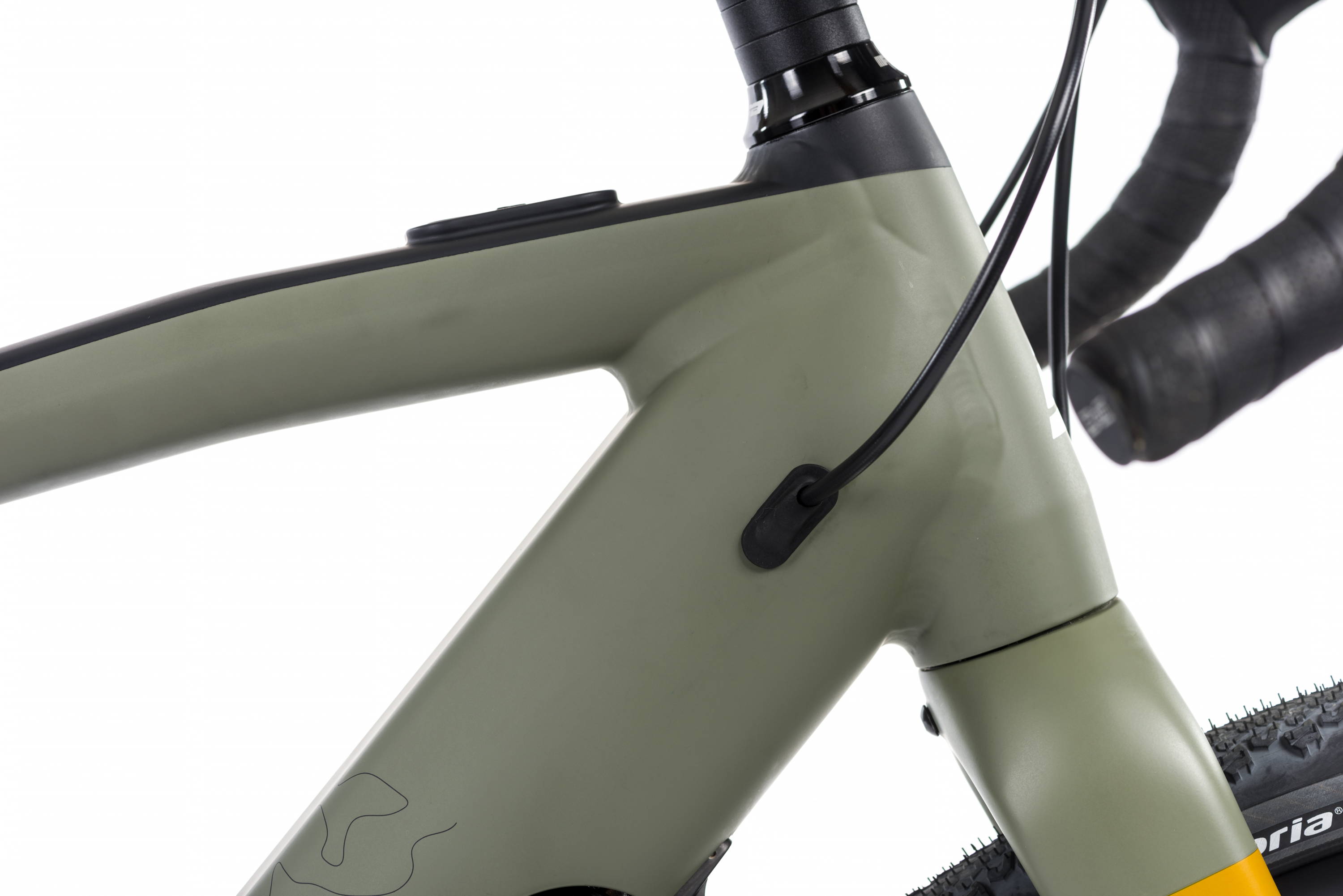 The Rambler is the first Cairn E-Adventure to be compatible with suspension forks. If you ever do decide to add a suspension fork to your E-Adventure, we would like to make some recommendations based on our own testing:
- 30-40mm of Travel


- 40-45mm Offset

- 700x45c (or larger) tyre

- If possible, upgrade to a larger front 180mm rotor

- 12x100mm spacing (keeps compatibility with stock wheel)
Finding the right size for your bike is crucial. Whilst every individual will have a slightly different bike fit preference, we strongly advise you to check the size chart below. Feedback from our customers states that it is a very good fit guide.
If you have any further questions please do get in touch with our friendly customer service consisting of real world riders like you.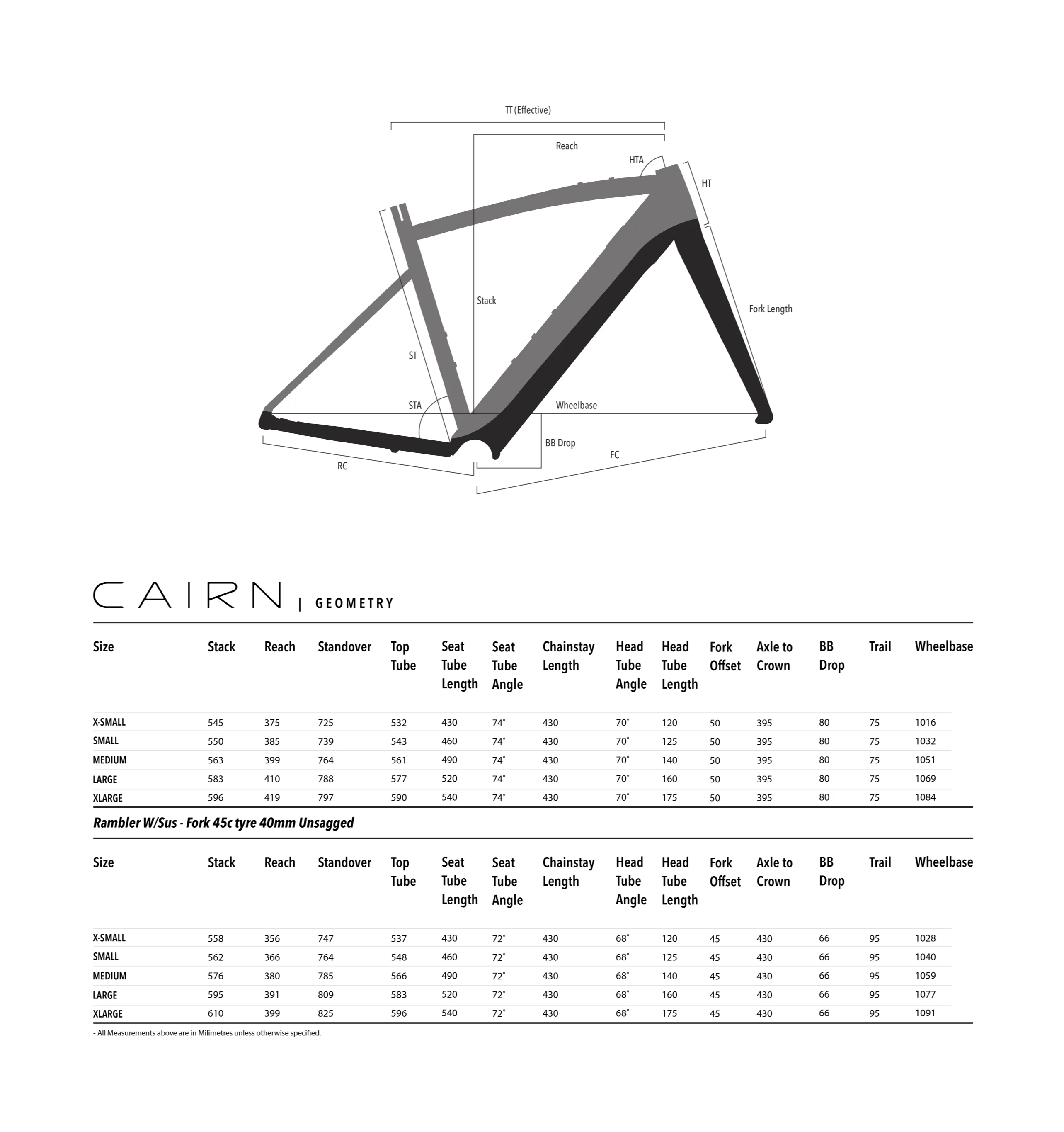 60-Day Ride & Return Guarantee
We understand that buying a new e-bike is a big decision. To help you with that, we are so confident that you'll be happy with your Cairn E-bike, that we offer a full 60 days to ride it. If at any point during these 60 days you wish to return it for a full refund (or a product swap) please email explore@cairncycles.com, or call us on the phone number at the foot of our website. Unfortunately, we cannot offer a refund on any item that has suffered severe or crash damage within this period. However, we do offer a crash replacement discount scheme, so please contact us via email or phone and we will help.
Cairn Cycles warranty is only valid if it is purchased through Cairn Cycles or an authorised dealer. The warranty is void if your Cairn bicycle was not purchased direct or with an un-authorised dealer, if you are not the original owner, or it has been subject to non-normal use. Non-normal use conditions mean the bike has been subjected to tricks, stunts, skate parks, pump tracks, ramps, bike parks, north shore style, trials riding, commercial or hire activities. All riding should be done within the intended use of the bicycle, see intended uses page for more details. Warranty does not apply to normal wear and tear, abuse, neglect, improper assembly or maintenance as well as crash damage or non-original parts.
Complete Bicycle
All bikes will have a 1-year complete bicycle warranty, as long as the bicycle was purchase from Cairn Cycles direct or an authorised dealer. This will cover any defective materials or workmanship for one year from the date of purchase. This will be subject to condition and use within the intended use guidelines.
Frame
All Cairn Cycles frames will be covered for a period of 5 years from the date of purchase by the original owner. Subject to normal and intended use, regular maintenance and inspection by Cairn Cycles.
Fork
All Cairn Cycles forks (for suspension fork warranty please see the manufactures website or manual) will be covered for a period of 5 years from the date of purchase to the original owner. Subject to normal and intended use, regular maintenance and inspection by Cairn Cycles.
Wheels
All Hunt Bike Wheels are provided with a 3-year warranty against material or workmanship defects. The warranty period runs from the purchase date. For more information visit our help pages.
Components
The individual components of your bicycle will have a warranty period as well, which is specific to the manufacturer of the component. These will be either outlined in the provided manuals at point of purchase or the details can be found on the manufacturers website.