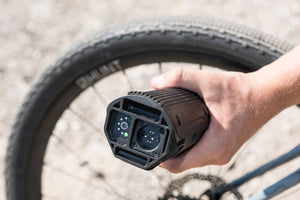 FAZUA Evation 1.0 Battery - 255 Wh
FREE EU Shipping
60 Day Ride & Return Period
Please don't miss out, order now. FAZUA products are in high demand due to their unique superior specifications. Please be aware that we are working hard to meet demand. Unfortunately sales often outstrip supply, so please order now to avoid disappointment.
The Purpose
FAZUA's battery is deliberately kept small and light so when you are going on a very long ride or a multi-day adventure, you can simply pack a spare battery.
After 8 hours of no use, the battery automatically goes into "deep sleep mode" and must be restarted manually. It cannot be turned on and off via the remote but you can simply detach the drive system and press the on/off button to "wake up" the battery once again.
With about 15-20% remaining capacity, the support performance is deliberately reduced so you don't get stopped abruptly.
Key Features
Mechanical and electronic connection to the bottom bracket gearbox
Brushless DC motor with high power density
Planetary gear with freewheel
Compact power electronics with USB connection
Range of 55 km (34 miles) at the highest level of support and up to 90 km (56 miles) on Breeze Mode
Tech Specs
Rated continuous power: 250 Watt
Max. power: 400 Watt
Rated voltage: 36 V
Rated capacity: 7000 mAh
Operating temperature: -5°C to + 40°C (derating outside this temp range)
Storage temperature: -15°C to + 60°C
Charging temperature: 0°C to 40°C
Protection class: IP54
Weight: 1.38 kg
---
Discover Your Next Adventure
For the latest news, stories, offers and updates, join our monthly Cairn Journal and have the chance to win €100 Cairn kit every 2 months.